Nashville Predators Currently Have Best Odds of Winning Stanley Cup
Published on April 8th, 2018 12:07 pm EST
Written By:
Dave Manuel
Click Here To Bet on NHL Playoffs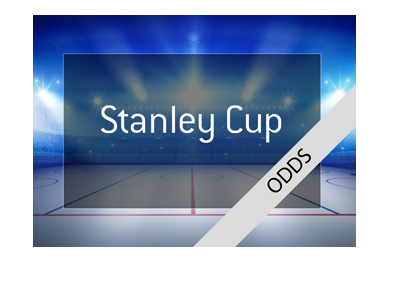 The sixteen teams that will be participating in the Stanley Cup playoffs this year have all been set. With just one game left on Sunday (Florida vs Boston), the only thing left to determine is some of the seedings in the Eastern Conference, as Boston could move higher with a win.
The 16 teams that will be playing in the post-season this year are: Nashville, Tampa Bay, Boston, Vegas Golden Knights, Winnipeg, Washington, Toronto, Pittsburgh, San Jose, Minnesota, Columbus, LA, Anaheim, Philadelphia, New Jersey and Colorado.
Some of the match-ups that have already been set for the first round include Pittsburgh vs Philadelphia and Winnipeg vs Minnesota.
-
Nashville, which came agonizingly close to winning the Stanley Cup last season, will open up as the favourites to win. Nashville has an extremely balanced team that is built for a long run, plus they have some of the best fans in the league. Winning on the road in Nashville is not an easy task in the playoffs, and the Predators will have home ice advantage throughout the entirety of the post-season.
The Tampa Bay Lightning and Boston Bruins both have dynamic and talented teams as well, and they are both near the top of the list in the eyes of the bookmakers.
Here are the current betting odds to win the Stanley Cup as of this moment, courtesy of Bet365:
Source: Bet365
Time Stamp:
April 8th, 2018 11:46 am EST
Odds Subject to Change
Nashville Predators, 5.0
Tampa Bay Lightning, 6.5
Boston Bruins, 6.5
Vegas Golden Knights, 8.5
Winnipeg Jets, 8.0
Washington Capitals, 11.0
Toronto Maple Leafs, 10.5
Pittsburgh Penguins, 13.0
San Jose Sharks, 23.0
Minnesota Wild, 26.0
Columbus Blue Jackets, 26.0
LA Kings, 26.0
Anaheim Ducks, 19.0
Philadelphia Flyers, 23.0
New Jersey Devils, 29.0
Colorado Avalanche, 31.0
-
If you are looking for value plays, the Pittsburgh Penguins at 13.0 and LA Kings at 26.0 both stand out, mainly due to their experience in the playoffs and the fact that they have both won Stanley Cups in the past 5 years.
This should be an absolutely outstanding playoffs - enjoy!