Lucky Whitehead Had Some Terrible Luck Over The Years
Published on October 25th, 2022 2:12 pm EST
Written By:
Dave Manuel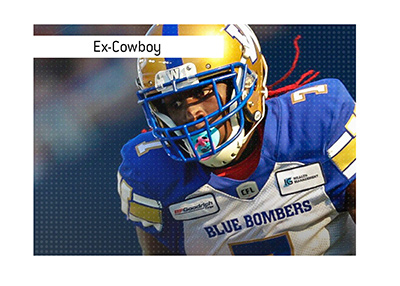 Lucky Whitehead has had some incredibly bad luck over the course of his career.
The Florida Atlantic University graduate went undrafted in the 2015 NFL Draft, though he would impress the Dallas Cowboys enough to sign with them as an undrafted free agent.
Though Whitehead had some issues during his rookie year, the wide receiver impressed enough to remain on the roster. Whitehead was used as a punt and kickoff returner mostly, though he did manage to rush 10 times for 107 yards and catch six balls for 16 yards.
Whitehead impressed in the 2016 preseason, as he managed to return a kickoff for a touchdown in a game against the Rams.
During the 2016, Whitehead would jeopardize his spot with the Cowboys after showing up late to a team meeting. In addition, Whitehead had some fumbling issues, though the Cowboys thought enough of him to keep him on the team.
This is when Whitehead's luck turned for the worse.
-
When Whitehead showed up to Cowboys training camp in 2017, he would soon be caught in a case of mistaken identity.
On July 24th, 2017, news reports stated that Whitehead was facing a misdemeanor petty larceny charge after it was reported that he stolen $25 worth of stuff from a convenience store.
A court summons was issue, and Whitehead didn't show.
After the Cowboys learned of this, they immediately cut Whitehead from the team.
-
The problem? It wasn't Whitehead that had stolen $25 worth of stuff from the convenience store - it was somebody completely different.
The police cleared up the situation the next day, though it was too late - Whitehead had already been dropped from the Cowboys.
-
Whitehead's story was picked up by the media, and people cheered when the New York Jets claimed him off waivers.
Whitehead's bad luck continued, however, after he broke his foot in a practice before the season had ever started.
Whitehead was required to get surgery, and Jets would release him less than a month later.
-
Whitehead's story with the Jets wasn't over, as the team would sign him to their practice squad in November of 2017.
Whitehead would be promoted to the active roster right at the end of the 2017 season.
During the 2018 preseason, Whitehead was injured again, and waived yet again by the Jets.
This would be the end of Whitehead's time in the NFL.
-
Whitehead has gone on to enjoy some success in the Canadian Football League, but his time in the NFL seems to be over, and you can't help but feel bad for him.