17 Players Who Went Undrafted Went On To Enter The Pro Football Hall of Fame
Published on February 25th, 2022 1:50 pm EST
Written By:
Dave Manuel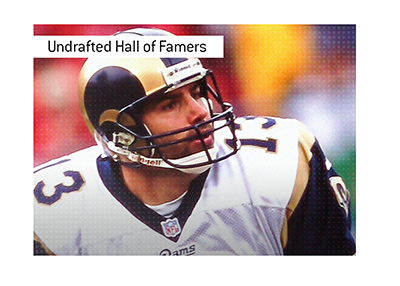 There are hundreds of NFL players that have been inducted into the Pro Football Hall of Fame, with the majority of them having been taken in the first round of the draft.
Seventeen players, however, defied all of the odds by going undrafted and then making the Hall of Fame.
This was much more common in the "old days" of the NFL - it's virtually unheard of in this day and age to be an undrafted player that turns out to be good enough to be a NFL starter, let alone make the Hall of Fame.
The main reason? Scouts are just too good at their jobs - if you are good enough to play in the NFL, there is virtually no chance that you will be ignored by NFL teams.
-
As mentioned, sixteen players have gone undrafted and eventually made the Pro Football Hall of Fame. They are:
Frank Gatski
Lou Groza
Marion Motley
Bill Willis
Joe Perry
Emien Tunnell
Jack Butler
Dick "Night Train" Lane
Willie Wood
Mick Tingelhoff
Willie Brown
Emmitt Thomas
Larry Little
Jim Langer
Warren Moon
John Randle
Kurt Warner
-
Dick "Night Train" Lane, Kurt Warner and Warren Moon are likely the most recognizable names on this list.
Lane served four years in the Army. While walking home from work one day, Lane walked into the office of the Los Angeles Rams and asked for a tryout. Lane was granted a tryout (he brought a bunch of college clippings with him to convince the team to give him a shot) and the rest is history.
Warren Moon was certain that he was going to be a very late draft-pick in the NFL draft, so he elected to sign in the Canadian Football League instead.
After dominating in that league, Moon signed in the NFL with the Houston Oilers.
Kurt Warner played in the Arena Football League and was famously working in a grocery store before signing with the St. Louis Rams in 1998. Warner would go on to win two MVP awards and would be enshrined into the Hall of Fame in 2017.
-
There should be some more undrafted NFL players heading into the Hall of Fame in the near future.
Antonio Gates, for instance, should be a slam dunk to make the Hall of Fame.