Tom Brady, Lamar Jackson Only Two Unanimous Winners of Award
Published on November 18th, 2022 6:10 pm EST
Written By:
Dave Manuel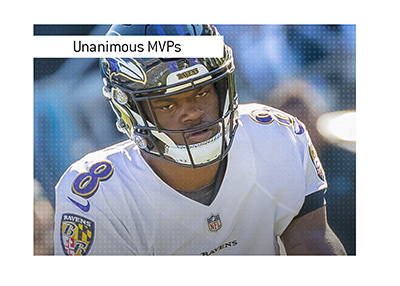 It's difficult for a player to garner the votes of all 50 sportswriters in order to unanimously win the NFL's MVP award.
Sometimes the voting is legitimately close, with multiple players receiving votes.
Sometimes a sports writer will be a contrarian and vote for somebody that isn't the clear favorite to win the award.
-
Over the history of the NFL, only two players have unanimously won the NFL's MVP award.
They are:
1) Tom Brady in 2010
2) Lamar Jackson in 2019
The 2010 New England Patriots would finish with a record of 14-2, despite the fact that they traded away Hall of Famer Randy Moss early in the season.
Brady was unbelievably consistent during the 2010 season, throwing for 36 touchdowns, 3,900 yards and just 4 interceptions.
Sure, Brady put up better statistical seasons, though 2010 was probably his most accurate season as the leader of the Patriots.
Brady was clinical that year, tearing apart defenses and making practically no mistakes.
-
In 2019, the Baltimore Ravens would also go 14-2, thanks, in large part, to the emergence of Lamar Jackson.
In 2019, Jackson would throw for 3,127 yards, 36 touchdowns and 6 interceptions.
Jackson was especially dangerous on the ground in 2019, as he rushed for an eye-popping 1,206 yards and 7 touchdowns.
Lamar emerged as a nearly unstoppable dual weapon in 2019, and he has been giving opposing defenses fits ever since.
-
In both cases, the unanimous MVPs were dominant quarterbacks on dominant teams. In both cases, the quarterbacks made practically zero mistakes all season and were remarkably consistent.