Steph Curry Remains Only Player To Garner Every First-Place Vote
Published on February 19th, 2023 3:07 pm EST
Written By:
Dave Manuel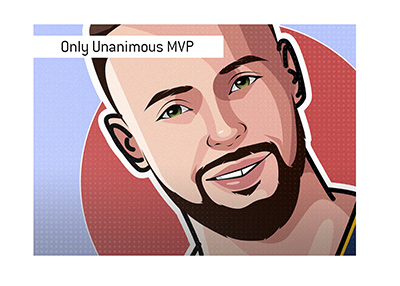 NBA fans have witnessed some absolute greats over the years.
Michael Jordan. LeBron James. Wilt Chamberlain. The list goes on and on.
Only one player, however, has ever been the UNANIMOUS choice for MVP of the league.
Being named the unanimous MVP is harder than you might think. Maybe you have a voter who wants to be different and vote for somebody that is clearly not going to win. Maybe you have a voter that wants to vote for their personal favorite player.
Having all 131 writers cast the same vote for MVP has only been accomplished once.
The player that they all voted for?
Steph Curry.
-
Over the course of the 2015-16 NBA season, the Golden State Warriors dominated, compiling a record of 73-9, beating the record for wins in a season that had been previously held by Michael Jordan and the Chicago Bulls.
The Warriors were shockingly consistent, led by the likes of Curry, Klay Thompson and Draymond Green. Everybody was expecting them to have a downswing during at least one point of the season, but it never came.
Steph Curry was at the forefront of this consistency, has he ended up averaging over 30 points per game, as well as 5.4 rebounds, 6.7 assists and 2.1 steals.
Curry was unbelievable from 3-point land as well, as he hit over 45% of his three-pointer attempts.
-
There were some strong challengers in 2015-16 - Kawhi Leonard, LeBron James and Russell Westbrook all put together great seasons.
The Golden State Warriors, however, had the 73-9 record on their side, and it was impossible to make an argument for anybody other than Steph Curry for MVP.
In order for another player for be named the unanimous MVP, their team would likely have to break the Warriors' single-season win mark, and that seems nearly impossible in this day and age.