Khabib Nurmagomedov Remains Favourite To Defeat McGregor
Published on September 13th, 2018 11:32 am EST
Written By:
Dave Manuel
Click Here To Bet on UFC 229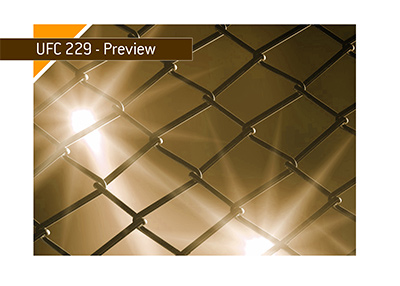 October 6th will feature the return of Conor McGregor to the Octagon, as he is set to do battle with Lightweight champion Khabib Nurmagomedov.
This will mark McGregor's first trip to the Octagon in nearly two years. After defeating Eddie Alvarez for the Lightweight title at UFC 205, McGregor elected to fight Floyd Mayweather in a much-hyped boxing match. Since that time, McGregor has been stripped of both the Lightweight and Featherweight titles due to inactivity. In addition, McGregor was briefly jailed for the famous "dolly" throwing incident. It's been a hectic couple of years for McGregor.
Khabib Nurmagomedov, on the other hand, picked up the vacant Lightweight title following a victory over Al Iaquinta. Nurmagomedov was originally supposed to fight Tony Ferguson for the title, though Ferguson hurt himself in the lead-up to the fight and was unable to take on Khabib.
Khabib Nurmagomedov opened as a favourite to defeat Conor and remains a favourite as of this moment, though the gap between the two men is narrowing. Conor has many rabid Irish fans behind him, and these fans will likely bet large amounts of money on their man.
-
UFC 229 also features an intriguing lightweight tilt between Tony Ferguson and Anthony Pettis. This fight is surely an insurance policy for the main event - if McGregor or Khabib falls out, Ferguson will surely be getting the call to step into the main event.
Let's take a look at the odds for this card from top to bottom:
Conor McGregor, +155
Khabib Nurmagomedov, -165
Jose Quinonez, +260
Sean O'Malley, -320
Anthony Pettis, +255
Tony Ferguson, -310
Dominick Reyes, -190
Ovince Saint Preux, +165
Alexander Volkov, -175
Derrick Lewis, +155
Felice Herrig, -135
Michelle Waterson, +115
Aspen Ladd, -120
Tony Evinger, +100
Jussier Formiga, +135
Sergio Pettis, -155
Alan Patrick, -250
Scott Holtzman, +210
Lina Lansberg, +145
Yana Kunitskaya, -165
Gray Maynard, +195
Nik Lentz, -235
Tony Laflare, -190
Tony Martin, +165
As you can see, there are a number of really close fights on this card.
There are estimates that UFC 229 will do in excess of 2 million buys.