The Three Numbered Events That Never Took Place
Published on January 26th, 2022 3:07 pm EST
Written By:
Dave Manuel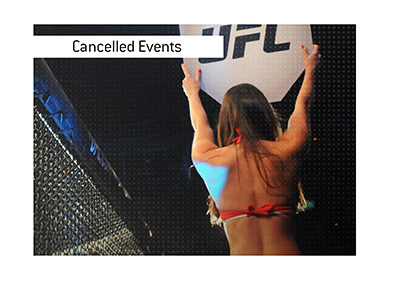 When you are looking through the list of UFC events that have taken place (especially the numbered events), you will likely notice that there are three holes in the results - UFC 151, UFC 176 and UFC 233.
These three events never happened.
The UFC sets the names of their events far in advance, so future events could not be renamed to the names of the cancelled events.
So, UFC 151, UFC 176 and UFC 233 will always remain as holes in the list of historical UFC results.
-
So, what happened with these three events?
First off, let's look at who was scheduled to headline these three cards:
UFC 151: Jon Jones vs Dan Henderson
UFC 176: Jose Aldo vs Chad Mendes
UFC 233: Henry Cejudo vs TJ Dillashaw
In order for an event to be entirely cancelled, something needs to happen to the main event on fairly late notice. The late notice will sometimes not give the UFC time to find a suitable replacement fight, so they sometimes just decide to can the entire card.
In addition, injuries to fighters on the rest of the main card can sometimes contribute to the cancellation of an event as well.
This is one of the reasons why the UFC likes to put two title fights on the same numbered card, as it allows them to continue with the card if something happens to one of the title fights.
-
So - what happened to UFC 151, 176 and 233? Why were they cancelled?
Let's take a look:
UFC 151
The main event of UFC 151 was supposed to be Jon Jones vs Dan Henderson for the Light Heavyweight title.
Eight days before the fight was to take place, Dan Henderson was forced to pull out due to a MCL injury.
The UFC tried to put together a late fight between Jon Jones and Chael Sonne, but Jones and his team declined, citing the lack of notice to prepare for Sonnen.
The UFC elected to cancel the event, and Jon Jones squared off against Vitor Belfort at UFC 152.
UFC 176
UFC 176 was scheduled to feature a rematch between Jose Aldo and Chad Mendes.
A month before the event was set to take place, Jose Aldo was forced to pull out due to injury.
The UFC would later announce that they were unable to book a suitable main event fight, so the event was cancelled.
UFC 233
The UFC's move to ESPN would end up sabotaging this card.
Henry Cejudo vs TJ Dillashaw was originally supposed to headline this event, but the UFC chose to move the fight up a week so that it could headline the promotion's first event on ESPN+.
The UFC tried to find a replacement main event fight but they couldn't, and ended up scrapping the event.