Offenses Now Have An Easier Time After "Ty Law Rule" Became Strictly Enforced
Published on November 8th, 2023 4:22 pm EST
Written By:
Dave Manuel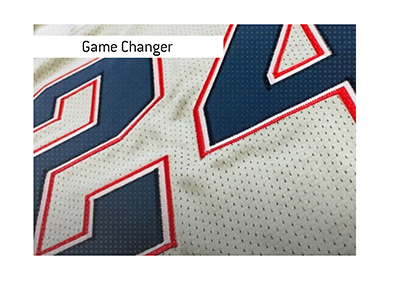 Who would have thought that Ty Law, a cornerback who ended up making the Pro Bowl five times, would end up making the league easier for quarterbacks and NFL offenses.
That's exactly what happened after the league decided to start strictly enforcing something that is now known as the "Ty Law" rule.
-
Ty Law played for a number of different teams over the course of his career, though is likely best known for his time with the New England Patriots, where he spent a decade of his career.
During that time, Law won three Super Bowls while establishing himself as one of the most dominant (and frustrating to play against) cornerbacks in the league.
Law was extremely aggressive and used his physicality to disrupt opposing wide receivers.
Actually, "disrupt" is probably the wrong word - instead, Law physically punished opposing wide receivers, even outside five yards of the line of scrimmage.
Law would hit, hammer and toss around wide receivers, making it nearly impossible for them to catch the football. This made Law an extremely tough cornerback to play against.
-
Law's style of play ruffled feathers - none more so than Bill Polian, who was the general manager and President of the Indianapolis Colts when they went to the AFC Championship game in 2004.
The Colts were playing on the road against the Patriots, and Ty Law was creating havoc for the Colts receivers.
On one play, Law tossed Marvin Harrison out of bounds.
This play, along with a number of others from the game, caused Polian to lose his cool.
The Colts would lose the game, but Polian would get the last word.
You see, Polian was a member of the NFL's Competition Committee, and he made sure that at the 2004 league meeting, the league cracked down on downfield contact past five years.
In addition, Polian also made sure that the league cracked down on pass interference, in a direct attempt to stop the behavior of Ty Law and others.
-
The league ended up agreeing to better enforce the illegal contact beyond five yards rule. This ended up being known as the "Ty Law Rule".
Now, any illegal contact of offensive players more than five yards down the field would be strictly enforced, which would be a bump to wide receivers, tight ends and quarterbacks.
-
This follows the theme of some of the league's best defensive players - including "Night Train" Lane, Ty Law and others - being so effective that it causes the league to either create new rules or better enforce existing ones.