Tom Brady a Big Favorite To Return For 2022-23 Season
Published on January 25th, 2022 6:35 pm EST
Written By:
Dave Manuel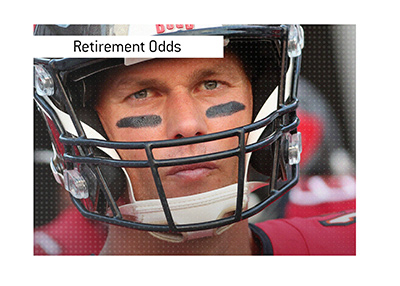 Is this the end for Tom Brady in the NFL?
According to sportsbooks - don't count on it.
As of this moment (things can obviously change), sportsbooks are pricing in Tom Brady as a big favorite to return to the Tampa Bay Buccaneers for the 2022-23 season.
This comes despite the fact that Brady has been publicly musing about the impact of football on his family over the past few days, which has led some to believe that he is going to hang it up.
-
More people believe that Brady may be on his way out, including Shannon Sharpe, who said earlier today he believes that there is a "60%" chance that Brady is going to hang it up.
Here are the current betting odds for Brady to return for the 2022-23 season, as of this moment:
Will Brady Return in 2022-23?
Yes, -500
No, +300
So, according to these numbers, there is a roughly 80% chance of Brady returning next year.
-
Those in the "Brady is going to return for another year" camp point to a number of things as to why he'll return, including:
1) Brady said previously that he wanted to play until he was 45 years of age (he is currently 44)
2) Brady has one more year left on his deal with the Buccaneers
3) The Buccaneers have a very good team and should be contenders next season if Brady decides to return
4) Brady won't want to go out on a loss
5) Brady is coming off of a very strong year
6) Brady has said that he is still feeling great
7) The Bucs organization wants Brady back
-
Having said all of this, the odds are pricing in a Tom Brady retirement after the NEXT season as a near-lock.
So, according to the sportsbooks anyways, the 2022-23 regular season will likely feature the Tom Brady Retirement tour, as he plays one more season with the Buccaneers.