A Look at the Records That Tom Brady May Have Forever
Published on September 8th, 2022 2:16 am EST
Written By:
Dave Manuel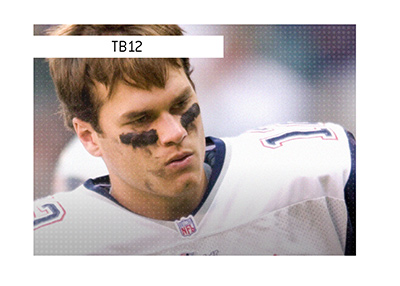 Tom Brady is 45 years old and still going strong.
In his most recent season, Brady threw for over 5,300 yards and 43 touchdowns, which was statistically one of the best seasons of his career.
The longer that Brady plays, the more insurmountable some of his records become.
Here are
12
Tom Brady records that may never be broken:
1.
7 Super Bowl Rings.
Tom Brady has 7 Super Bowl rings.
The next closest players have six, but none of them played in the modern era of the NFL.
The last player to win 5 championships? Charles Haley, with his last Super Bowl ring coming in 1995.
In this age of parity in the NFL, a single player winning 8 or more Super Bowl rings is seemingly impossible to comprehend.
Not only would they have to be tremendously successful, but they would likely have to play well into their 40s.
In this age of big money contracts, how many players are willing (or able) to play football for that long?
2.
243 Wins as a Starting Quarterback.
243 wins for Tom Brady as a starting quarterback - the next closest player is Brett Favre, with 186 wins.
The closest active players?
Aaron Rodgers, with 139 wins, and Matt Ryan, with 120 wins.
This record is never getting broken.
3.
20 Seasons With One Team.
Players come and players go.
In the salary cap era, NFL teams have to be so harsh when it comes to deciding which players to keep.
In order for a player to spend 20 seasons with the same team, they would have to play from their early 20s until their early 40s, without ever leaving the team.
In this current era, a player spending more than 20 seasons with the same team seems as close to impossible as you can get.
4.
18 Division Titles.
18 division titles?
The NFL is set up to maintain parity in the league, and one player winning more than 18 division titles in the future almost certainly won't happen.
The New England Patriots, led by Tom Brady, enjoyed a remarkable run that may never be repeated.
5.
10 Super Bowl Appearances.
Making it to the Super Bowl is a once-in-a-lifetime achievement for most players.
Tom Brady? He went 10 times.
Again - the idea of a player making it to 11 Super Bowls during their career seems about as likely as you walking to the moon.
6.
35 Postseason Wins as a Starter.
Winning in the postseason requires talent, grit and determination.
Tom Brady did that
35
times over the course of his career (and counting).
The next closest active quarterback is Aaron Rodgers with 11 postseason wins.
Not a chance this is getting broken.
7.
6 Super Bowl Game Winning Drives.
This is following a theme - a theme of Tom Brady appearing in and winning many Super Bowls.
There are any number of Super Bowl records that Brady will likely hold for a very long time - passing yards, touchdown passes, pass attempts, completions, etc.
Unless a quarterback goes to the Super Bowl 10+ times, none of these records are getting broken.
8.
84,520 Passing Yards (and rising).
The next closest active player has 59,735 yards, and that is Matt Ryan.
Unless somebody like Matthew Stafford decides to play into their mid 40s, Tom Brady's passing yards record is likely safe for a long, long time.
9.
Touchdowns Thrown to 82 Different Receivers.
Another record that involves the incredible longevity of Tom Brady, but it also speaks to his willingness to involve everybody in the offense.
This is what would make the Patriots so hard to play against - there would be a different player with a big game seemingly every game.
10.
624 Passing Touchdowns.
Tom Brady currently sits first on the all-time list with a total of 624 passing touchdowns.
Drew Brees is #2 with 571, while Peyton Manning threw 539 passing touchdowns over the course of his career.
Aaron Rodgers, who is nearing 40 years of age, is second on the active player list with a total of 449.
If Tom Brady retired right now, Aaron Rodgers would need more than 4 more seasons with 40 passing touchdowns.
This seems to me to be the likeliest record to be broken, though it would require Tom Brady to retire soon, and it would require Aaron Rodgers to play well into his 40s.
A possibility.
11.
14 Conference Championship Appearances.
Another ungodly statistic. 14 Conference Championship appearances? Most players are likely to play for 14 years, let alone go to 14 Conference Championships.
It seems very unlikely that somebody could top this record.
12.
Highest Winning Percentage When Playing 200+ Games.
Tom Brady has a .764 winning percentage lifetime.
The next closest active player on the list? Aaron Rodgers, with a winning percentage of .669.
After that, you have to go all the way down to Matt Ryan with a winning % of .541 to find the next highest active player.
If Aaron Rodgers played for five more seasons, and if the Green Bay Packers went 17-0 every season, he would still not catch Tom Brady.
An unbreakable record.