Bidder Definitely Didn't Get What They Bargained For
Published on March 14th, 2022 3:01 am EST
Written By:
Dave Manuel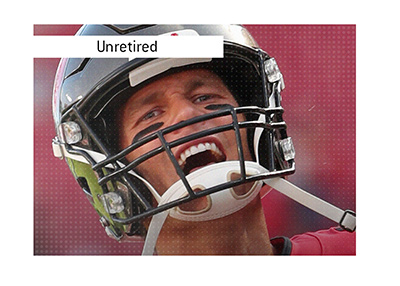 Talk about some horrendous timing.
At 10 pm on March 12th, 2022, the bidding on Leland's for Tom Brady's "Last Touchdown Pass Football" was completed.
The "winning" bidder ended up paying $518,628 for the football.
In total, there were 23 bids, with a starting bid of $100,000.
This was to be a prized piece of football history, as it was the very last touchdown pass that the GOAT, Tom Brady, ever threw in the NFL.
The winning bidder was likely hoping to sit on his/her investment for a few years and then sell it for a nice profit.
-
Well, Tom Brady himself had some different ideas, and now the $518,628 football is practically worthless.
On Sunday evening, Tom Brady unretired following a 33-day "retirement".
Earlier in the day, Brady had watched Cristiano Ronaldo play, and after the game the two had an odd conversation.
Ronaldo said something to the effect of "So, you are done now?" (referring to Brady's career), to which Brady gave a neutral response.
Later on in the day, Brady made it official - he would be returning to the Tampa Bay Bucs to "run it back".
-
This is definitely going to have an interesting impact on the future collectibility of Tom Brady memorabilia.
Will his next "last touchdown pass football" really be his last, or will he decide to unretire again?
Whatever the case may be, let's pour out some liquor for the unfortunate collector who shelled out over $500,000 for Brady's "last touchdown pass football".