Martin Ortega: "I'm a Collector Who Lost Control"
Published on August 11th, 2022 1:26 pm EST
Written By:
Dave Manuel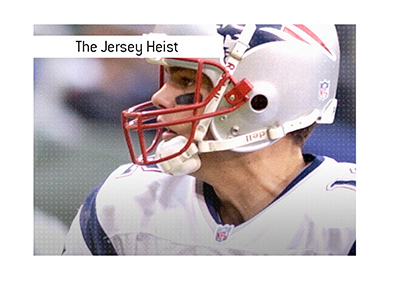 Shortly after the New England Patriots' 34-28 victory over Atlanta in Super Bowl LI, Tom Brady slipped his game-worn jersey into his bag.
A nice momento of a thrilling Super Bowl victory that his kids will be able to enjoy.
A few moments later, the jersey was stolen.
-
After Tom Brady reported that the jersey was missing, team and stadium officials tore through the locker room, looking for it.
After not being able to find it, the police were called in - the jersey had been stolen.
In fact, the story received so much attention that the FBI was eventually brought into the case.
-
Who could have possibly stolen the jersey?
The conclusion was that a member of the media must have stolen it during the player interviews after the game.
Authorities went through 20,000 different media credentials and eventually narrowed down their search to one man - Martin Ortega, a journalist for "La Prensa".
Ortega would email another collector, showing off his impressive collection of game-worn Super Bowl items. This collector would forward the pictures to authorities.
Video tape from the locker room was scrutinized, and Ortega was caught on camera walking over to Brady's bag (with his back to the camera) and putting something into a plastic bag.
The police had their man.
-
A short time later, Ortega would resign from his job, citing health issues.
The jersey would eventually be recovered by police, as well as a number of other items, including a game-worn Von Miller helmet, as well as Tom Brady's jersey from the Super Bowl two years previous.
That's right - Tom Brady's jersey had been stolen before, and nobody knew it.
The items were eventually returned to Brady and Miller, who both thanked the police for their work.
-
Ortega would eventually admit to the thefts, stating that he was simply a collector who got carried away in the moment.
"I know what I did was wrong", Ortega would say in a Fox interview.
-
If you are a member of the media and are thinking about snatching up a game-worn jersey (or helmet) to add to your collection, I'd think twice about it.