Single Quarter TD Passing Record Likely Never To Be Broken
Published on January 19th, 2023 8:10 pm EST
Written By:
Dave Manuel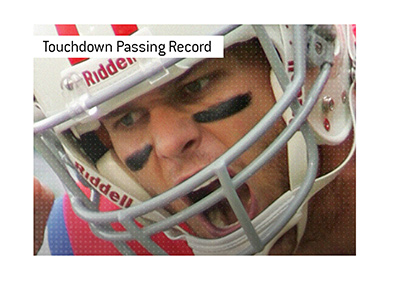 It was October 18th, 2009.
The 4-2 New England Patriots were playing in front of their home fans on a pleasant Sunday afternoon.
Their opponents? The lowly Tennessee Titans, who were still looking for their first win of the season.
Little did the fans in attendance at Gillette Stadium know that they were about to see Tom Brady break a record that will likely never be broken.
-
The Patriots had a high-powered offense that included the likes of Brady, Randy Moss and Wes Welker, to name a few.
After jumping out to a 10-0 lead at the end of the first quarter, the New England Patriots really ramped up the pressure in the second quarter.
Over the course of the next 15 minutes, Tom Brady would throw for
five
touchdown passes, which still stands as a record to this day.
This included three touchdown passes over the course of just 3 1/2 minutes of game time.
During the second quarter onslaught, Brady threw two touchdown passes to Randy Moss (40 yards, 28 yards), two touchdown passes to Wes Welker (30 yards, 5 yards) and one touchdown pass to Kevin Faulk (38 yards).
It was an absolute slaughter, and at halftime, the Patriots walked into their dressing room with a 45-0 lead.
-
Early on in the third quarter, Brady and Moss connected once again for a 9-yard touchdown reception.
The record for most TD passes in a single game (7) was in sight, though the Patriots decided to show some mercy by pulling their starters from the game a short time later.
Backup quarterback Brian Hoyer would rush for a touchdown late in the third quarter to make it a 59-0 game, which is how the contest would end.
-
Over the course of the game, Tom Brady would throw for 380 yards and 6 touchdowns, which was his best game of all time.
Tennessee's quarterbacks, on the other hand, were probably wondering if they could borrow some of Brady's magic on the day, as Kerry Collins and Vince Young combined for a line of 2-14, -7 yards and 2 interceptions.
-
It seems hard to imagine that anybody will be able to break this single-quarter touchdown passing record, as 6 TD passes in one quarter seems impossible.