Kansas City Chiefs Had Some Awful Quarterbacks Before Patrick Mahomes Came Along
Published on February 12th, 2023 3:36 pm EST
Written By:
Dave Manuel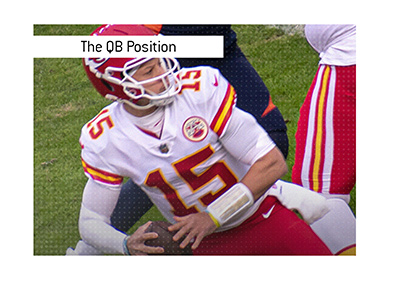 You might think that fans of the Kansas City Chiefs are extremely lucky to be blessed with such a great quarterback in Patrick Mahomes.
After all, Mahomes has won the MVP award twice by the age of 27, and the Chiefs seemingly go to the Super Bowl every year.
Chiefs fans, however, would tell you that the team had to struggle MIGHTILY at the QB positions before Patrick Mahomes came along.
-
Two of those terrible, horrible Kansas City Chiefs quarterbacks went by the names of Todd Blackledge and Brodie Croyle.
Chiefs fans might recoil at the sound of these two names, as they were bad.
Very, very bad.
-
Brodie Croyle was drafted by the Chiefs in the third round of the 2006 NFL Draft.
During his time with the team, Croyle started a total of 10 games - and lost all 10 of them.
Despite starting in 10 games and playing in a total of 18 games, Croyle managed to finish his career with a total of just 181 completions and 1,669 yards.
Over the course of his career, Croyle threw for 8 touchdowns and 9 interceptions, while getting sacked 26 times.
Croyle holds the distinction of being the only quarterback in Chiefs history to have started at least three games and not win a single one.
In addition, Croyle is just one of four QBs in league history to have started at least 10 games and not won a single one.
-
Todd Blackledge was another disastrous pick for the Kansas City Chiefs.
While Croyle was taken in the first round, Blackledge was taken in the first round of the 1983 NFL Draft, ahead of legends such as Dan Marino and Jim Kelly.
During his time in Kansas City, Blackledge compiled a record of 13-11 while completing just 49.1% of his passes.
Blackledge would throw for 29 touchdowns and 38 interceptions during his time with the Chiefs, while getting sacked 65 times.
Over his time with the Chiefs, Blackledge would start 24 games. The results were disastrous, and the Chiefs decided to eventually move on.
What made the situation even worse is that the Chiefs could have had Dan Marino or Jim Kelly, and instead they were stuck with the ineffective Todd Blackledge.
The Blackledge experiment was so disastrous, in fact, that it would be three decades before the Chiefs would take another QB in the first round.
That QB was Patrick Mahomes.