A Look at the Crazy Numbers From Tim Tebow's "3:16" Game
Published on July 28th, 2023 5:48 pm EST
Written By:
Dave Manuel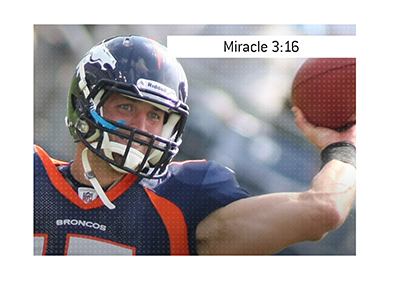 In the 2009 BCS National Championship game, Florida quarterback Tim Tebow wrote "John 3:16" in his eye black.
Tebow, who was famously outspoken about his Christian faith, polarized many millions of people across the country that day.
Some loved the fact that Tebow referenced the John 3:16 verse for the world to see, while others thought that religion should be left out of the sport.
It's safe that say that Tim Tebow was one of the most polarizing athletes to enter the NFL Draft in a long, long time.
-
Tim Tebow underwhelmed during his time in the NFL, and certainly didn't pay dividend for the Denver Broncos, who raised many eyebrows when they drafted him as high as they did.
On January 9th, 2012, the 8-8 Denver Broncos played host to the 12-4 Pittsburgh Steelers in an AFC Wild Card game.
With the game tied 23-23, Tim Tebow connected with Demaryius Thomas for an 80-yard touchdown in the first play of overtime.
The Broncos had overcome the odds by defeating the Steelers and moving onto the next round.
-
Here is where things get strange - the "316 coincidences".
Tim Tebow ended up passing for 316 yards in the game.
Tim Tebow ended up averaging 31.6 yards per completion in the game.
The time of possession for the Steelers ended up at 31:06.
Tim Tebow ended up averaging 3.16 yards per rush.
And, finally, the ratings for the game ended up being 31.6 on CBS.
-
Despite this surprising win, Tim Tebow would find himself on the New York Jets the following season, where he would throw just 8 times.
After that, Tim Tebow was gone from the NFL, never to return.
Tim Tebow fans, however, will always have the "3:16" game in early 2012.