Shaquille O'Neal Finished His Career With ONE Three Pointer
Published on May 8th, 2022 5:10 pm EST
Written By:
Dave Manuel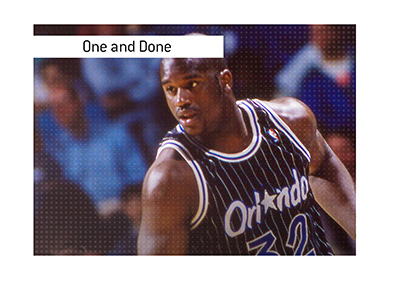 The modern NBA has a new definition of a "big man".
The modern NBA's "big men" can largely shoot from anywhere. Nikola Jokic, for instance, easily averages more than 1 made three pointer per game.
-
The Shaquille O'Neal era in the NBA was much different.
For Shaq, his role was to get into the paint and dominate. It worked - Shaq would finish his career with four rings (as he loves to point out to Charles Barkley), and he is widely considered to be the most dominant big man of all time.
Shaq, however, was a pretty terrible shooter. He is widely considered to be one of the worst free throw shooters of all time, so it shouldn't surprise you to learn that he didn't launch too many three pointers.
-
So - how many three pointers did Shaq hit over the course of his nearly two-decade career?
The answer? 1.
One three pointer from the 1992-93 season to the 2010-11 season.
That single three pointer came during Shaq's last season (1995-96) with the Orlando Magic.
During a February 16th, 1996 game against the Milwaukee Bucks, Shaq launched a three-pointer during his team's 121-91 victory.
To the shock and amazement of the people in attendance, Shaq not only launched a three pointer as time ticked down, but he made it as well.
-
In case you were wondering - Shaq attempted 22 three pointers over the course of his entire career.