"The Steagles" Would Finish 5-4-1
Published on July 30th, 2022 3:36 pm EST
Written By:
Dave Manuel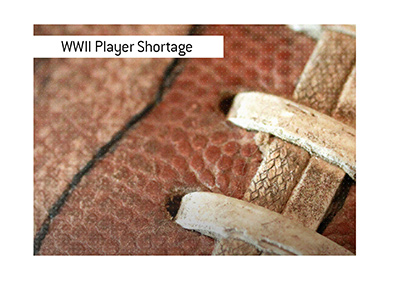 During the 1943 NFL season, the Philadelphia Eagles and Pittsburgh Steelers both had a problem:
They didn't have enough players due to World War II.
In 1943, World War II was raging and many NFL players couldn't play due to their military service.
The Steelers and Eagles both had their rosters decimated due to the war, so they decided on a novel solution.
A temporary merger of the two teams.
The official record books list the team as "Phil-Pitt Combine", though fans call the team the "Steagles".
-
Heading into the 1943 season, the league was in a very bad spot.
The Cleveland Rams decided to suspend operations, and the Pittsburgh Steelers only had six players under contract.
The league needed at least eight teams to survive, so Steelers' owner Art Rooney came up with the idea of the Steelers and Eagles temporarily merging.
The Eagles were less desperate as they had 16 players under contract, though an agreement was eventually made to combine the two rosters. It turns out that Rooney had done the Eagles owner, Alexis Thompson, a favor a few years before (agreed to swap cities so Thompson could be closer to his home in New York), so a deal was done.
The league approved the merger by a narrowest of margins (5-4), with some owners afraid that the merger would create a competitive advantage.
-
It turns out that these worries were misguided, as the "Steagles" would miss the playoffs in 1943 after compiling a record of 5-4-1.
The team was messy. One major reason? The team had co-head coaches (Greasy Neale and Walt Kiesling) who had both refused to be demoted.
To make matters even worse? Both head coaches hated each other.
-
The merger would be temporary, as the teams went back to normal for the 1944 season.