President Richard Nixon Attended The Game
Published on September 4th, 2023 2:24 pm EST
Written By:
Dave Manuel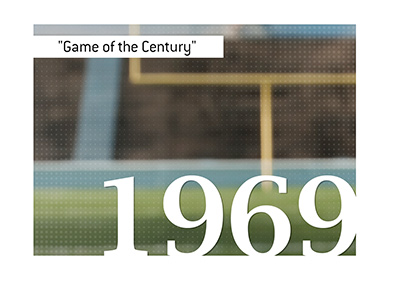 Here is a piece of college football trivia for you - what was the highest rated game of all time?
Would it surprise you to know that in this day and age of mobile devices and screens everywhere, that the highest rated college football game of all time took place in 1969?
-
When the Texas Longhorns travelled to Razorback Stadium to play the Arkansas Razorbacks in December of 1969, the two teams were the #1 and #2 ranked teams in the nation.
Texas, led by Darrell Royal, were the nation's #1 ranked team, while the Razorbacks, led by Frank Broyles, were the nation's #2 ranked team.
Texas was led by a nearly unstoppable rushing attack that included Steve Worster and Jim Bertelsen, and a defense that allowed just 119 points over the course of the entire season.
Arkansas also had a very strong rushing attack, led by Bill Burnett, who finished the season with 900 rushing yards. In addition, they had the best defense in the nation, allowing less than one touchdown per game.
-
The game between Texas and Arkansas was dubbed the "Game of the Century".
President Nixon attended the game and declared that the winner would receive a plaque stating that the winner was the "number one college football team", which established the game as a "national championship" game.
Interest in the game was already high - establishing as it a national title game sent the ratings into the stratosphere.
-
The game, which was aired on NBC, ended up being a thriller.
Arkansas was enjoyed a 14-0 lead heading into the fourth quarter, only for Texas to come storming back for a 15-14 win.
Texas, which had turned the ball over six times in the game, came out victorious.
-
The game, which was to commemorate college football's 100th anniversary, ended up pulling a massive rating, despite the fact that the game took place on a Saturday afternoon.
The game did a Nielsen rating of 52.1 (74 share), which continues to be the highest ever rating for a college football game.
Let's break down how massive this number is.
A rating of 52.1 means that 52.1% of ALL households in the United States tuned in to watch the game between Texas and Arkansas in 1969.
In addition, a 74 share means that of the people who were watching television in the United States that Saturday afternoon, 74% were watching Texas vs Arkansas.
Absolutely unbelievable numbers that will never be topped.
-
Arkansas would finish the 1969 season with a record of 9-2, while Texas would finish with a perfect record of 11-0 after defeating Notre Dame in the Cotton Bowl.