European Open - Betting Odds, Favourites to Win, History and Past Champions
Tournament Details:
Date: 2023.10.16 - 2023.10.22
Location: Belgium
Surface: Indoor hard court
Total Prize Money: €750,950
The ATP World Tour makes its way to Belgium for the European Open Tennis tournament in the second half of the year.
The European Open Tennis tournament is the only ATP World tour event staged in Belgium. Since 2016, the event has regularly been staged in Belgium and attracts players from all across the globe.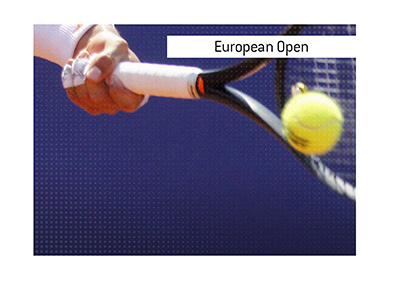 Event Status - An ATP 250:
The event is organized as an ATP 250 tournament and was added to the ATP World Tour in 2016. It has been retained as a permanent fixture since then. It was one of the few ATP tour events that continued without any disruptions during the covid-19 restrictions.
Surface Specifications and Courts:
The event is played on hard indoor courts. These courts have less energy absorption when compared to clay courts. This results in a higher bounce and faster gameplay.
Location:
The event is played at the Lotto Arena in the largest city of Belgium, Antwerp, which is also the capital of the province in the Flemish Region.
Formats:
The tournament features matches in both the singles and doubles categories.
Past Champions:
The event's inagural edition was won by Richard Gasquet of France, who won against Diego Schwartzman in the final with a score line of 7-6 (7-4) and 6-1. However, the champion of the inagural edition pulled out of the 2017 event, but his fellow countryman Jo Wilfried Tsonga managed to win the title, once again edging out Diego Schwartzman in the final.
The most high-profile final at the European championships was played between Britain's Andy Murray and Switzerland's Stan Wawrinka. The 2019 final ended in Murray's victory with the score line of 3-6, 6-4, and 6-4.
Diego Schwartzman has played in most finals as he featured in 3 of the 6 finals so far but hasn't been able to win the trophy yet.
Until now, no player has ever been able to defend his title in the European Open Championship.
Doubles Champions:
The 2016 Men's doubles competition was won by Daniel Nestor and Edouard Roger-Vasselin, who won against Pierre-Hugues Herbert and Nicolas Mahut.
Edouard Roger-Vasselin won his second title at the European Championships when he paired up with Nicolas Mahut in 2018 and won the title for the second time. Later, Nicholas Mahut also won his second doubles title at the European Championships in 2021, when he won alongside Fabrice Martin.
Current Champions:
Felix Auger-Aliassime from Canada is the 2022 champion.
2023 European Open championships:
The 2022 European Open Tennis tournament will be played between 2023.10.16 and 2023.10.22.
-
View more
Tennis Tournaments