Where To Bet on Australian Open
Click Here To Bet on 2022 Australian Open!
(Ad)


The 2020 edition of the Australian Open will feature a total of $49.1 million, which is the highest amount in the history of the tournament.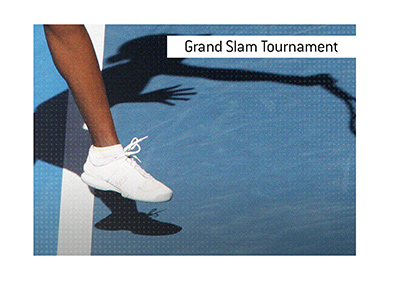 The Australian Open is the first of the Grand Slam tournaments of the year and is held in January in Melbourne, Australia.
The tournament is played during the hottest part of the year in Australia, which makes for some gruelling conditions on the court. The court surface (which is made out of Plexicushion) regular reaches into the upper 30s over the course of the tournament. The tournament venue can accommodate indoor play, and during particularly bad heat waves in Australia, retractable roofs will be used to shield players from the extreme temperatures.
The tournament was founded in 1905 and has since become one of the most anticipated tournaments of the year. The tournament was played on grass until 1988, when the tournament permanently moved to hard surfaces.
The current reigning champions of the Australian Open are as follows:
Men's Singles - Novak Djokovic
Women's Singles - Naomi Osaka
Men's Doubles - Nicolas Mahut, Pierre-Hugues Herbert
Women's Doubles - Samantha Stosur, Zhang Shuai
Mixed Doubles - Barbora Krejcikova, Rajeev Ram
The tournament is played at Melbourne Park which consists of three major arenas where the tournament is largely played:
Rod Laver Arena
Melbourne Arena
Margaret Court Arena
-
The most successful men's player in the history of the Australian Open is Novak Djokovic, who has won a total of 7 titles (2008, 2011, 2013, 2015, 2016, 2019)
The most successful women's player in the history of the tournament is Margaret Court, who won 11 titles starting in 1960 and stretching out to 1973. This was a period of unparalleled dominance in the tournament.
The history of the Australian Open is usually considered in two parts - pre-1969 and post-1969. Prior to 1969, the remoteness of the location resulted in very few foreign players participating in the tournament, so it was essentially dominated by Australian players. The 1969 tournament was the first to be held at the Milton Courts in Brisbane, Australia, and it was the first Australian Open that was open to all players.
-
Let's take a look at the current outright betting odds for this event, courtesy of Bet365:
Source: Bet365
Time Stamp:
December 24th, 2019 10:51 pm EST
Odds Subject to Change
Men's Draw
Novak Djokovic, 2.62
Rafael Nadal, 4.50
Roger Federer, 11.00
Daniil Medvedev, 11.00
Stefanos Tsitsipas, 11.00
Dominic Thiem, 15.00
Alexander Zverev, 19.00
Andy Murray, 26.00
Juan Martin Del Potro, 34.00
Grigor Dimitrov, 34.00
Women's Draw
Serena Williams, 7.00
Simona Halep, 9.00
Ashleigh Barty, 10.00
Karolina Pliskova, 11.00
Bianca Andreescu, 11.00
Naomi Osaka, 15.00
Petra Kvitova, 15.00
Johanna Konta, 17.00
Angelique Kerber, 23.00
Madison Keys, 23.00
Tournament Details:
Total Prize Money: $49.1 Million
Surface: Plexicushion
Country: Australia