Argentina Open (ATP Buenos Aires) - Betting Odds, History and Previous Winners
Tournament Details:
Date: 2024.02.12
Location: Argentina
Sport: Tennis
Surface: Clay
Total Prize Money: $410,000
Argentina continues to remain an important and significant stop on the ATP World Tour. An ATP World Tour 250-level tennis tournament is organized each year in the Argentinian Capital, Buenos Aires. Based on the location, the tournament is called ATP Buenos Aires. Globally, it is famous as the Argentina Open Tennis Tournament.
ATP Buenos Aires - Argentina Open Tennis Tournament: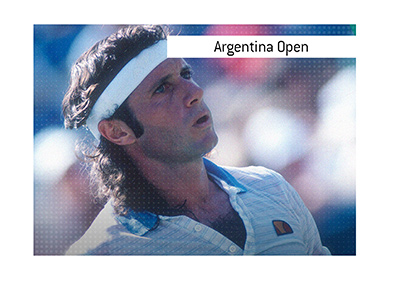 ATP Buenos Aires is named after the host City, Buenos Aires, and does not have any particular title sponsor right now. It is an ATP World Series 250 event that is played at the start of each year in the month of February.
Location and Courts:
The Event is played at the Buenos Aires Lawn Tennis Club. It involves outdoor courts and Clay Surfaces for the competition. The tournament features Singles and Doubles competitions for Men.
Long History of the Competition:
The tournament is one of the oldest tennis tournaments in the world. It was originally named the Argentine Championship. The first-ever edition of the tournament was played in 1921. This implies that the tournament is among the few tennis competitions in the world that are more than a century old now. During the 1970s and 1980s, it was a part of the historic Grand Prix Tennis Circuit. Between 1996 and 2000, an alternative competition Buenos Aires Challenger was held on similar lines.
Past Names:
Currently, the city of Buenos Aires presents and organizes the competition. However, in the past, it has had different organizers and different names. The past names include Argentine Championships, South American International Championships, South American Open, Copa AT&T, and Copa Telmex.
Past Winners:
The inaugural edition of the competition was won by Juan Carlos Morea. Between 1932 and 1934, Guillermo Robson became the first player to win the competition on three consecutive occasions.
Guillermo Vilas, the Argentine former world number 1, has won the competition on most occasions and leads the records with 8 Titles. This included a stunning streak of 6 consecutive titles between 1973 and 1977(1977 featured two editions of the competition). In the modern era, David Ferrer won the competition on three consecutive occasions between 2012 and 2014. The 2015 edition of the competition was won by the great Rafael Nadal.
In the doubles category, Horacio Zeballos from Argentina has won the competition on most occasions, with 4 titles to his name. He has paired up with several players and finished 2nd in the most recent competition.
2023 Winner:
Carlos Alcaraz won the men's singles competition.
2024 ATP Buenos Aires:
The next edition of the ATP Buenos Aires will be played in February 2024.
-
View more
Tennis Tournaments