Jon Jones, Georges St. Pierre Top List
Published on December 11th, 2019 1:18 pm EST
Written By:
Dave Manuel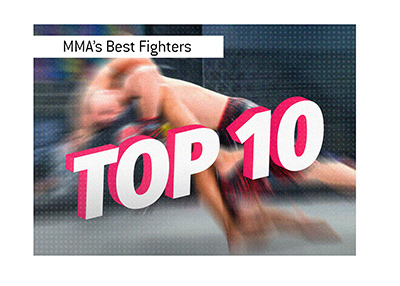 When it comes to ranking the greatest fighters in the history of mixed martial arts, there are always going to be asterisks due to steroid use.
This article is simply going to consider wins, losses, length of title reigns, etc., in order to keep things simple.
Some people believe that Jon Jones should NOT be considered as one of the greatest fighters in the history of the UFC due to his various issues with USADA, personal issues, etc. I leave that for you to decide. When considering his wins and losses, however, you quickly come to the realization that Jon Jones is the greatest MMA fighter to have ever lived.
Here is our list, starting with the greatest fighter of all time:
1. Jon Jones
If you throw out his "loss" to Matt Hamill due to the throwing of illegal elbows, Jon Jones has never lost as a professional fighter.
That is 26 fights, many against some of the best Light Heavyweight fighters in the history of the sport, without a loss.
When you consider Jon Jones' greatness, you need to look at the quality of his competition.
Daniel Cormier, who many consider as one of the greatest fighters to have ever stepped foot into the Octagon, has two losses on my resume to Jon Jones (well, technically one, as their UFC 214 fight was declared a no-contest due to Jones' testing positive for turinabol.
Let's look at a sampling of the names that Jones has beaten over the years:
Daniel Cormier (2x)
Alexander Gustafsson (2x)
Lyoto Machida
Rashad Evans
Mauricio Rua
Ryan Bader
Quinton Jackson
Jones has been thoroughly dominant over the course of his career, though his last fight gave his fans a scare, as he ended up beating Thiago Santos via split decision.
Prior to that fight, Jones had likely only dropped maybe 2-3 rounds since his title reign started in March of 2011. That is insane.
Jones' resume contains victories over a who's who of Light Heavyweight legends, including Rua, Evans, Cormier and more.
Could Jon Jones be a more likeable person? Sure. There is no denying, however, his greatness inside of the Octagon.
Career Highlight: Taking apart Mauricio "Shogun" Rua at UFC 128 to win the Light Heavyweight title.
2. Georges St. Pierre
If St. Pierre never steps foot into the Octagon again, he will have finished his career with a record of 28-2. Both of his losses (Serra, Hughes) were avenged.
St. Pierre had a long title reign that stretched from April of 2008 until November of 2013, when he dropped his title following a victory over Johny Hendricks. During that time, St. Pierre fought and beat all of the Welterweight division's top contenders, including Carlos Condit, Nick Diaz, Jake Shields, Josh Koscheck (twice) and BJ Penn, just to name a few.
As if that weren't enough, GSP emerged from retirement in November of 2017 to defeat Michael Bisping for the Middleweight title. Again, GSP would vacate the belt, citing health issues.
Many people say that St. Pierre was "boring", though his style of using jabs and takedowns to nullify his opponent's offence was extremely effective. Besides, many of St. Pierre's opponents were absolutely paralyzed in the Octagon while fighting him - it's easy to forget that St. Pierre won six awards from the UFC in his last 12 fights with the promotion, including five Performance of the Night awards. Doesn't sound too boring to me.
St. Pierre walked away from the sport while he was in his early 30s, and many people felt as though he left because he was unhappy with the sport's drug testing policies. It is important to note that the UFC teamed up with USADA and implemented much tougher drug testing policies after St. Pierre left the sport following his win over Johny Hendricks.
St. Pierre fought successfully under intense pressure for many years. He regularly headlined UFC PPVs that drew over 800,000 buys. He headlined a card in front of over 50,000 people at Roger's Centre in Toronto. He won multiple times in his hometown of Montreal, Quebec, Canada.
Many people want to see Georges St. Pierre fight Khabib Nurmagomedov before his career is over, though the UFC doesn't seem too interested in putting together that fight. Maybe it's for the best.
Career Highlight: Avenging his loss to Matt Serra in front of his hometown fans at UFC 83 to regain the Welterweight title.
3. Fedor Emelianenko.
If this article had been written 10 years ago, there is no doubt that Fedor would have found himself at the top of the list.
You can't take away from all of Fedor's accomplishments over the course of his career, though there is also no doubt that Fedor stuck around for too long, which has certainly tarnished his image, at least a bit.
If you ignore the last decade or so, there is no doubt that Fedor is one of the greatest mixed martial artists of all time. During his prime in PRIDE, Fedor was unstoppable, beating the likes of Antonio Rodrigo Nogueira, Cro Cop, Mark Hunt and Mark Coleman.
The Fedor hype train continued into North American promotions such as Affliction and Strikeforce, where Fedor continued to rack up wins against the likes of Tim Sylvia, Andrei Arlovski and Brett Rogers.
Fedor was the calm, soulless monster that could beat you in any number of ways.
Fedor could take your head off, as we saw in his fight against Brett Rogers in November of 2009.
Fedor could out-grapple and submit you, as we saw in countless PRIDE fights.
Fedor could out-last you, as we saw in his fight against Cro Cop in December of 2005.
In his prime, Fedor was unbeatable.
The only regret is that the UFC and prime-Fedor couldn't work out a deal - every fight fan in the world wanted to see Brock Lesnar vs Fedor or Randy Couture vs Fedor.
Career Highlight: Defeating Antonio Rodrigo Nogueira to win PRIDE Heavyweight Championship in March of 2003.
4. Anderson "The Spider" Silva
Anderson "The Spider" Silva is one of the greatest strikers to have ever lived.
The ease in which prime-Silva dispatched of his opponents was scary - who can forget his dismantling of Forrest Griffin at UFC 102, or his annihilation of Yushin Okami in front of a hometown crowd at UFC 134.
Silva was also a fantastic grappler and submission artist - he just never really needs these tools as his striking was so phenomenal. Silva famously submitted Chael Sonnen at UFC 117, in what was one of the most memorable submissions in the history of the UFC.
Silva could also be infuriating to watch - so good that he could toy with his opponents, as he did with Demian Maia and Thales Leites. This led to much anger on the part of Dana White, though Silva would redeem himself with spectacular wins over Forrest Griffin, Vitor Belfort and Yushin Okami.
The legend of Anderson Silva began when he debuted in the UFC and absolutely pummeled Chris Leben, winning in less than a minute. After that, Silva was accelerated straight to a title shot against Rick Franklin, where he won in the first round after dishing out a world-class beating on the champion.
After winning the Middleweight title, Silva would go seven years without losing the title, before dropping a fight to Chris Weidman in July of 2013.
Despite the fact that Silva has only won 1 of his last 8 fights, he is still competitive in practically every fight, despite the fact that he is nearly 45 years of age.
Silva is truly one of the most special talents that the UFC has ever seen.
Career Highlight: Beating Rich Franklin for the Middleweight title at UFC 64, beating Chael Sonnen via submission at UFC 117
5. Daniel Cormier
Daniel Cormier has one of the most amazing stories of anybody on this list.
After all, Cormier, who is know 40 years of age, didn't even start training mixed martial arts until he was 29. As we've seen with fighters such as Randy Couture and Brock Lesnar, a strong wrestling base is almost essential if somebody wants to pick up mixed martial arts later in their life and be successful with it.
Cormier made two US Olympic men's wrestling teams, finishing in 4th place at the 2004 Olympics. In 2008, Cormier made the team again but had to pull out due to kidney failure, which was due to excessive weight cutting. This episode made Cormier extremely careful about avoiding large weight cuts during his MMA career.
Cormier made his debut in Strikeforce in 2009, crushing opponent after opponent before eventually winning the Strikeforce Heavyweight Grand Prix tournament.
After Strikeforce was acquired by the UFC, Cormier moved to that promotion, notching wins against the likes of Frank Mir, Roy Nelson and Dan Henderson.
Cormier decided to move down to Light Heavyweight, where he would lose to Jon Jones for the first of two times. Their first fight ignited a fierce rivalry that still exists to this day.
After Jones was forced to vacate the Light Heavyweight title, Cormier defeated Anthony Johnson to win the vacant title. After a number of successful title defenses, Cormier would lose to a returning Jon Jones yet again, though the result of that fight would be overturned due to a positive drug test from Jones.
After successfully defending the Light Heavyweight title one last time, Cormier would move up to Heavyweight to take on Stipe Miocic, where he would win in the first round to claim the title.
After losing to Miocic at UFC 241 and vacating his Light Heavyweight title, Cormier was faced with a decision - retire or keep fighting. Cormier chose the latter and is set to face Stipe Miocic in early 2020.
There are many who want to see Cormier fight Jon Jones one last time before he retires. Regardless of whether or not that fight actually happens and Cormier gets his revenge, "DC" has already cemented his spot as one of the greatest ever.
Career Highlight: Defeating Stipe Miocic to win the Heavyweight title at UFC 226
6. Demetrious Johnson
Demetrious "Mighty Mouse" Johnson has never gotten the attention or respect that he deserves, mainly because there is a bias towards fighters in heavier weight classes.
Johnson, however, is one of the very finest fighters to have ever lived, as he dominated the Flyweight division in the UFC for years.
After losing to Dominick Cruz in 2011 and fighting to a draw with Ian McCall in March of 2012, Johnson went on an absolute tear in the UFC, winning the title against Joseph Benavidez in 2012 and then successfully defending his title 11 times. Johnson was completely dominant during this run - so dominant, in fact, that some fans would leave events after the co-main event of cards that Johnson was headlining, as the outcome would never be in doubt.
After losing his Flyweight title to Henry Cejudo at UFC 227, Johnson was traded to ONE for Ben Askren. Johnson's winning ways would continue in that promotion, as he won three straight fights to take down the ONE Championship Flyweight Grand Prix.
Demetrious Johnson was one of the most dominant champions in the history of the UFC. That being said, his dominance almost led to the end of the Flyweight division, as fans almost got bored of seeing Johnson win every fight.
Johnson is certainly still one of the top pound-for-pound fighters in the world, despite the fact that he no longer fights in the UFC.
Career Highlight: Submitting Ray Borg to retain his Flyweight title at UFC 216
7. Jose Aldo
Jose Aldo, aka "Scarface", was yet another fighter that was considered by many to be the best pound-for-pound fighter in the world at the height of his reign.
Aldo dominated during his time in the WEC, savaging the likes of Rolando Perez and Chris Mickle before earning a shot at the promotion's Featherweight title. Aldo would win the title in emphatic fashion, knocking out Mike Brown in the second round to take the gold.
Before the WEC was bought by the UFC, Aldo would successfully defend his belt two more times, defeating Urijah Faber and Manvel Gamburyan.
In his first fight in the UFC, Aldo took on Mark Hominick on enemy soil at Roger's Centre in Toronto, Canada. Despite battling pneumonia, Aldo successfully defended his title, though he was completely exhausted by the fifth round of the fight.
Aldo would successfully defend his title six more times before losing to Conor McGregor at UFC 194. The speed of that knockout at the hands of McGregor tarnished Aldo's legacy, as he was dispatched in just 13 seconds.
Since losing to McGregor, Aldo has had some uneven results, beating Frankie Edgar, Jeremy Stephens and Renato Moicano, while losing to Alexander Volkanovski and Max Holloway.
Aldo will forever be known for his speed and savagery inside of the Octagon. It would be a rare feat to find somebody who was better at finishing a fight than prime Jose Aldo.
Aldo has countless Performance of the Night and Knockout of the Night awards to his name, which is a testament to how exciting of a fighter he is.
Career Highlight: Defending his Featherweight title against Chad Mendes at UFC 142 and running into the crowd to celebrate.
8. Randy Couture
"The Natural", like Daniel Cormier, got his start very late in mixed martial arts.
In fact, Couture's first professional fight came at the age of 34, when he defeated both Tony Halme and Steven Graham in the same night to win the UFC 13 Heavyweight tournament.
After defeating Maurice Smith at UFC Japan in 1997 to win the Heavyweight title, Couture would later vacate the belt after signing with a different promotion. This would start a history of animosity with the UFC that still exists to this day.
Couture would return to the promotion in November of 2000, when he immediately beat Kevin Randleman to win the Heavyweight title. Couture would defeat Pedro Rizzo twice in a row before losing the title to Josh Barnett, though a subsequent positive drug test for Barnett would result in the belt being vacated. Couture would fight Ricco Rodriguez for the vacant belt and lose, which resulted in Couture dropping to Light Heavyweight.
Light Heavyweight would produce some of the most exciting fights of Couture's career, as he had epic clashes against the likes of Chuck Liddell, Vitor Belfort and Tito Ortiz. Couture would win and lose the Light Heavyweight title multiple times over the course of his run at Light Heavyweight.
Couture would move back up to Heavyweight, where he would defeat Tim Sylvia to regain the title in what was one of the most inspiring performances of all time. Couture, in his mid 40s at the time, was the Heavyweight champion.
Couture would lose his Heavyweight title to Brock Lesnar at UFC 91. After beating Brandon Vera, Mark Coleman and James Toney, Couture would lose to Lyoto Machida in spectacular fashion at UFC 129 and retire.
Couture's accomplishments are all the more impressive when you consider that he was in his mid 30s when he fought his first professional fight.
Career Highlight: Regaining his Heavyweight title against Tim Sylvia at UFC 68.
9. Chuck Liddell
Chuck Liddell was arguably the UFC's first mega-star.
Liddell vs Ortiz 2 did 929,000 PPV buys in 2006, which was an absolutely monster number at the time (it still is). People loved the "Iceman", and he found the perfect foil in Tito Ortiz to propel him to the next level of stardom.
Many current UFC fans never got to see Liddell in his prime, so they don't know how good he really was. Liddell beat Randy Couture multiple times, Tito Ortiz multiple times, prime Wanderlei Silva, Vitor Belfort, Alistair Overeem and more.
Liddell was an electrifying fighter, able to knock the stuffing out of his opponent in just one punch. That was the allure of Chuck Liddell fights - you never knew what was going to happen.
In addition to his right hand, Liddell also had an excellent sprawl, which made him very hard to take down. Randy Couture would learn this the hard way.
Liddell would successfully defend his Light Heavyweight title four times, which is very hard to do.
While Liddell fought longer than he should have, his impact on the sport will be permanent as he was the first mega-star, and helped to propel the UFC to prominence across the world.
Career Highlight: Defeating Tito Ortiz at UFC 66 to retain the Light Heavyweight title.
10. Matt Hughes
Last but certainly not least is Matt Hughes, who, in his prime, was practically unbeatable.
Matt Hughes would successfully defend his Welterweight title seven times over the course of two different runs as champion. During these runs, Hughes beat the likes of Sean Sherk, B.J. Penn and Royce Gracie, just to name a few.
Hughes also handed GSP one of his few losses at UFC 50 after sinking in an armbar at the end of the first round of their fight.
Hughes employed a lethal mix of wrestling and ground-and-pound, though he was also extremely good with submissions. Hughes submitted some of the best submission artists in the world, though he never had training in BJJ. Instead, Hughes utilized something that he called "submission wrestling".
Hughes, along with Randy Couture, helped to usher in an era where wrestling was a key component of many successful fighter's repertoires.
Career Highlight: Winning the Welterweight title for the first time against Carlos Newton at UFC 34.
Honorable Mentions:
Khabib Nurmagomedov, BJ Penn, Dan Henderson, Dominick Cruz, Conor McGregor, Antonio Rodrigo Nogueira, Max Holloway