Temple Played Four Scoreless Ties During 1937 Season
Published on October 18th, 2023 8:38 pm EST
Written By:
Dave Manuel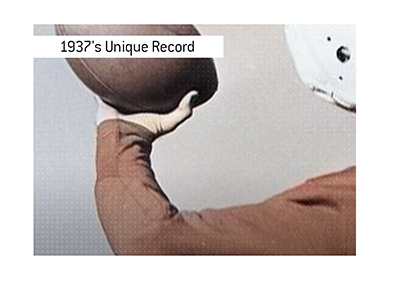 Here is another one of those records that will never be broken due to changes to the college football rulebook.
During the 1937 season, Temple played a total of FOUR 0-0 ties.
Due to overtime being introduced to college football a little over 25 years ago, this is a record that will never be broken.
-
In 1937, Pop Warner was the coach of Temple, and the football program ended the season with a respectable record of 3-2-4.
After cruising to a 18-7 win against VMI in their first game of the season, Temple and Ole Miss battled to a 0-0 tie.
In their third game of the season, Temple would beat Florida by a score of 7-6, bringing their record to 2-0-1 on the season.
Next up? Boston College at Fenway Park, where the teams would play to a 0-0 tie.
After notching a 7-0 win against Carnegie Tech, the Temple Owls would play to yet another 0-0 tie - this time against the #18 ranked Holy Cross.
Six games, with three scoreless ties.
After losing to Michigan State 13-6 on November 6th, 1937, Temple and Bucknell would play to a 0-0 tie.
In the final game of the season, Temple would get blown out by Villanova, 33-0.
-
Was Temple's defense really, really good, or was their offense really bad?
To be honest, it was a bit of both.
There would be no scoreless ties for Temple during their 1938 season, as their defense was much worse, giving up a total of 170 points over 10 games.
-
Pop Warner was known for introducing a number of innovations to the game of football, including the three point stance and shotgun formations, to name a few.
He is also partially responsible for setting one of college football's unbreakable records - four scoreless ties in a single season.