Five Teams Have Managed To Defy The Odds To Win Three Road Games
Published on January 23rd, 2022 12:43 am EST
Written By:
Dave Manuel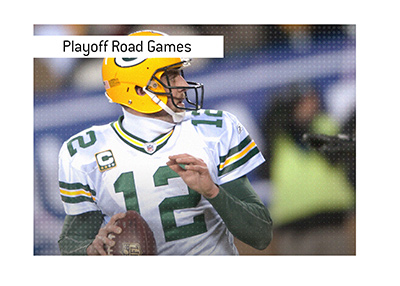 The NFL, more so than any other league, rewards teams that have very good regular seasons.
If you are the best of the best in the regular season, you are guaranteed home field advantage, plus you will receive a crucial first-round bye.
If you barely get into the playoffs, you will need to climb a mountain to make the Super Bowl, as you'll need to win on the road three straight times, plus you'll be playing well-rested teams in the second round.
It's not easy, and not many teams have done it.
-
Five teams have managed to win three straight road games to make the Super Bowl. They are:
1. 1985 New England Patriots.
The first team to ever win three straight road games in the playoffs. The 11-5 Patriots, led by a strong defense, managed to win road games against the New York Jets, Los Angeles Raiders and Miami Dolphins.
The Patriots forced an amazing 16 turnovers over the course of three playoff games to make it to the Super Bowl, where they were destroyed by the Chicago Bears, who were one of the greatest teams in the history of the NFL.
2. 2005 Pittsburgh Steelers.
The 2005 Steelers had one of the most impressive postseason runs of all time, as they defeated the Bengals, Indianapolis Colts (led by Peyton Manning), Denver Broncos and Seattle Seahawks to win the Super Bowl.
The Steelers won in every way possible - they blew teams out (34-17 win over the Broncos), and they managed to hold very good offenses to just 18 points (Peyton Manning had set the single season TD pass record that year).
3. 2007 New York Giants.
Eli Manning and the Giants had to win on the road against the Tampa Bay Buccaneers, win on the road against the 13-3 Dallas Cowboys and win on the road against Brett Favre and the Packers.
To top it all off, the Giants would defeat the New England Patriots in the Super Bowl, putting a stop to that team's quest for a perfect season.
The 2007 New York Giants defied all odds.
4. 2010 Green Bay Packers.
The Packers, led by Aaron Rodgers, won three straight road games against the Philadelphia Eagles, Atlanta Falcons and Chicago Bears.
They Packers weren't done there - they'd go on to defeat the Pittsburgh Steelers in the Super Bowl by a score of 31-25.
This run truly cemented Aaron Rodgers as one of the greatest quarterbacks the league has ever seen.
2020 Tampa Bay Buccaneers.
Tom Brady did it again in 2020, as he led his team to road wins over the Washington Redskins, New Orleans Saints and Green Bay Packers.
The team got the defending champs in the Kansas City Chiefs in the Super Bowl, but they made short work of Patrick Mahomes and company, beating them by a score of 31-9.