Earning The #1 Seed Is a Big, Big Advantage
Published on January 3rd, 2022 6:39 pm EST
Written By:
Dave Manuel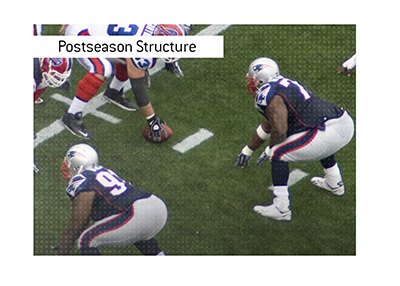 In 1975, the NFL switched to a seeding system for their postseason.
The format continues to change - for the 2021 season, for instance, extra teams are being added to the postseason.
No matter what tweaks the NFL makes to its postseason structure, however, one thing remains the same - earning the #1 seed is a big advantage.
-
Since 1975, a #1 seed in either the NFC or AFC has won the Super Bowl a total of 25 times (out of a total of 46 Super Bowls).
The NFC has won 15 of these Super Bowls, while the AFC has won the remaining 10.
The #2 seed has also done well in the Super Bowl, with the AFC's #2 seed winning six Super Bowls since 1975, and the NFC's #2 seed winning four Super Bowls.
Funnily enough, the #4 seed has managed to win the Super Bowl five times since 1975, with AFC teams accounting for four of these wins.
#3, #5 and #6 seeds have all won the Super Bowl twice (six Super Bowls total).
Here is a percentage breakdown by seed:
#1 Seed
-
54.4%
#2 Seed
-
21.7%
#3 Seed
-
4.4%
#4 Seed
-
10.9%
#5 Seed
-
4.4%
#6 Seed
-
4.4%
-
It's not hard to see why the #1 seeds have such an edge to win the Super Bowl, as they receive two major advantages:
1) First round bye
2) Home field advantage throughout the playoffs
#2 seeds also receive a first round bye, though they will be forced to win on the road if the #1 seed doesn't lose first.
-
Here is the full list of Super Bowl Winners by seed and conference since 1975:
NFC #1 Seed
1977 - Cowboys
1981 - 49ers
1982 - Redskins
1984 - 49ers
1985 - Bears
1986 - Giants
1989 - 49ers
1991 - Redskins
1993 - Cowboys
1994 - 49ers
1995 - Cowboys
1996 - Packers
1999 - Rams
2009 - saints
2013 - Seahawks
AFC #1 Seed
1975 - Steelers
1976 - Raiders
1978 - Steelers
1983 - Raiders
1998 - Broncos
2003 - Patriots
2014 - Patriots
2015 - Broncos
2016 - Patriots
2017 - Patriots
AFC #2 Seed
1979 - Steelers
2001 - Patriots
2004 - Patriots
2008 - Steelers
2018 - Patriots
2019 - Chiefs
'
NFC #2 Seed
1988 - 49ers
1990 - Giants
1992 - Cowboys
2002 - Bucs
AFC #3 Seed
2006 - Colts
NFC #3 Seed
1987 - Redskins
NFC #4 Seed
2011 - Giants
AFC #4 Seed
1980 - Raiders
1997 - Broncos
2000 - Ravens
2012 - Ravens
NFC #5 Seed
2007 - Giants
AFC #5 Seed
2020 - Buccaneers
AFC #6 Seed
2005 - Steelers
NFC #6 Seed
2010 - Packers