Bet Would Pay Out $2 Million if Bucs Cover
Published on January 30th, 2021 10:42 am EST
Written By:
Dave Manuel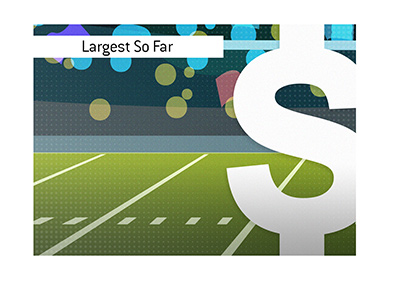 One deep-pocketed bettor in Nevada is feeling very good about Tom Brady's chances in Super Bowl LV.
According to reports, a Nevada bettor logged into his BetMGM mobile app to place a $2.3 million bet on the Tampa Bay Buccaneers to cover the spread in Super Bowl LV.
The exact bet:
$2,300,000 on Tampa Bay +3.5
To Win $2,000,000
This is the largest bet that has been placed on Super Bowl LV so far.
-
The Kansas City Chiefs, led by Patrick Mahomes, are 3.5 point favourites to win Super Bowl LV next weekend.
Tom Brady and the Buccaneers, however, are loaded with talent and will give the reigning champions a very tough test.
Tom Brady is loaded with experience, as he has six Super Bowl rings and has appeared in the Super Bowl double digit times.
In addition, you have to figure that Tom Brady is supremely motivated to prove that he can win the Super Bowl without Bill Belichick and the New England Patriots organization. There is no doubt that Tom Brady is undoubtedly the GOAT, though another win (with a different team) would continue to build on his ridiculous legacy.
-
Patrick Mahomes is looking to make his own mark as one of the greatest QBs of all time, despite the fact that he is still very young.
A second Super Bowl win, including a victory over Tom Brady, would already cement Mahomes' status as one of the best to ever do it, despite the fact that he is just 25 years of age. It would be hard to argue with two Super Bowl victories, however, so you know that Mahomes will be super motivated as well.
-
The bettor in Nevada is surely hoping that Tom Brady will conjure up some more magic.