Quarterbacks Have Won The Super Bowl MVP Award 31 Times
Published on February 11th, 2023 1:49 pm EST
Written By:
Dave Manuel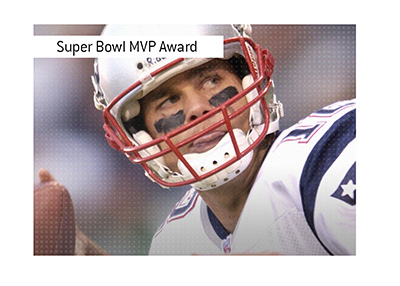 In Super Bowl I, Bart Starr of the Green Bay Packers was named MVP.
In fact, the MVPs of the first four Super Bowl were all quarterbacks - Bart Starr (x2), Joe Namath and Len Dawson.
At Super Bowl V, Chuck Howley of the Dallas Cowboys became the first defensive player to be named Super Bowl MVP, as the linebacker had two interceptions in a losing effort.
-
Unsurprisingly, the quarterback position has won the most Super Bowl MVP awards, led by Tom Brady (x5) and Joe Montana (x3).
Quarterbacks have been named MVP of the Super Bowl a total of 31 times, far outpacing any other position.
-
Wide receivers have been named Super Bowl MVP a total of 8 times, while running backs have won the award 7 times.
Here is a breakdown of Super Bowl MVP by position, current as of February 9th, 2023:
Quarterback, 31
Wide Receiver, 8
Running Back, 7
Linebacker, 4
Defensive End, 2
Safety, 2
Cornerback, 1
Defensive Tackle, 1
Kick Returner/Punt Returner, 1
It should be noted that players in certain positions have NEVER been named Super Bowl MVP - this includes tight ends, kickers and offensive linemen.
-
Quarterback is the most important position in football, so it stands to reason why the majority of Super Bowl MVPs would be quarterbacks.
We also run into the same situation that we do in the regular season MVP voting - if a wide receiver has an excellent season, the quarterback that is throwing them the ball will usually get the vote for MVP, and not the wide receiver himself.
This is why a wide receiver has never won the regular season MVP award.
-
In total, offensive players have won the Super Bowl MVP award a total of 46 times, while defensive/special teams players have won the award a total of 11 times.