It's Very Tough To Repeatedly Win in the NFL
Published on December 2nd, 2022 12:45 pm EST
Written By:
Dave Manuel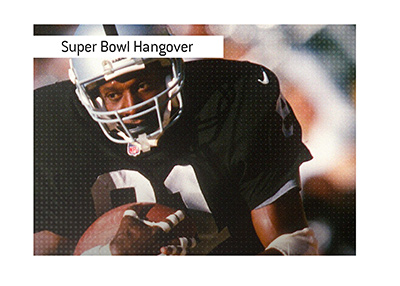 One of the most impressive things about the New England Patriots dynasty is how consistently good they were over time.
Many teams will reach the Super Bowl and then absolutely keel over the next season.
There are a variety of reasons for this - players leave for big money, players are burnt out after a long playoff run, assistant coaches leave for head coaching positions, etc.
The Super Bowl Hangover is a very real thing.
In fact, we are seeing this play out in 2022, as the Los Angeles Rams are on track for the worst "Super Bowl Hangover" in history.
After winning the Super Bowl last season, the Rams are just 3-8 and are absolutely falling apart, mainly due to injuries.
-
Which team had the worst Super Bowl hangover of all time?
A number of teams will probably jump out to you - the 2007 Chicago Bears, the 2002 St. Louis Rams and 2016 Carolina Panthers are a few teams that had very lacklustre seasons after reaching the Super Bowl.
One team, however, stands above the rest - the 2003 Oakland Raiders.
The year before, the Raiders shocked many when they made it all the way to the Super Bowl, powered by players such as Jerry Rice, Rich Gannon and Rod Woodson.
The 11-5 Raiders made it to the Super Bowl, where they lost in decisive fashion to the Tampa Bay Buccaneers.
The 2003 season for the Raiders, however, was an unmitigated disaster, as they ended up going 4-12 on the season.
Rich Gannon, who had wowed the league the season before, was injured halfway through the season.
Jerry Rice and Tim Brown, who had been so good the previous season, were held to a total of just 4 touchdowns combined.
The head coach, Bill Callahan, would be fired at the end of the season, which was a stunning turn of events.
This would be the worst Super Bowl hangover ever.
-
The Raiders would fail to make the playoffs for over a decade after reaching the Super Bowl in 2002.
Does the same fate await the Los Angeles Rams?