Steph Curry Was Very Nearly Traded To Milwaukee in 2012
Published on July 2nd, 2022 11:21 pm EST
Written By:
Dave Manuel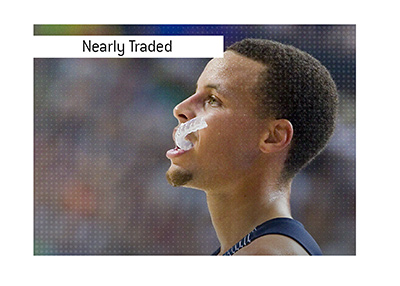 In March of 2012, Monta Ellis, Ekpe Udoh and Kwame Brown were traded from Golden State to Milwaukee for Andrew Bogut and Stephen Jackson.
Not exactly an earth-shattering trade for either team, though things get much more interesting to consider when you find out that Steph Curry was included in the original trade.
In fact, the two sides had AGREED on the trade involving Steph Curry until a Milwaukee Bucks doctor said that Curry's ankles were no good and that the Bucks shouldn't trade for him.
So, as a result, Monta Ellis was traded to the Bucks instead of Steph Curry.
-
Steph Curry has four rings and is arguably a top 5-6 player of ALL time.
Curry is the key cog in the Warriors dynasty, which was momentarily derailed due to injuries to Curry and Klay Thompson.
Warriors' fans can only be left to wonder what would have happened to their beloved franchise if that Steph Curry trade HAD gone through in 2012.
After all, Curry would win the league MVP award in 2014-15 and help lead his team to their first championship since 1975.
The Warriors would reel off a number of championship wins before the wheels seemingly fell off after the departure of Kevin Durant and the injuries to both Curry and Klay Thompson.
Things got back on track in 2022, however, as the Warriors won yet another title.
-
It all came so close to never happening.
Curry was said to have "weak ankles" and underwent surgical procedures on his ankles multiple times.
Curry's future was in question, and many raised their eyebrows when the Warriors signed him to a 4 year, $44 million deal in 2012. The deal turned out to be an absolute steal, though many questioned the move at the time.
The Warriors had decided to move on from Curry at the 2012 trade deadline, and had a deal lined up to trade him to the Bucks.
A doctor from the Bucks, however, raised serious concerns about Curry's ankles, and that trade never went through.
Instead, the Bucks got Ellis instead, and missed out on one of the greatest NBA players of all time.
-
Curry himself backed up the story of his near-trade in a podcast interview with Draymond Green.
Curry says that the coach of the Warriors at the time, Mark Jackson, told him about the trade that almost happened.
-
After the Warriors lucked into keeping Curry, the rest of the future dynasty fell into place.
The team drafted Draymond Green in June of 2012, one year after they took Klay Thompson.
Curry's ankles would hold up and the rest is history.