Ben Patz Sends Legions of Sports Bettors To Parlays
Published on December 30th, 2019 7:58 pm EST
Written By:
Dave Manuel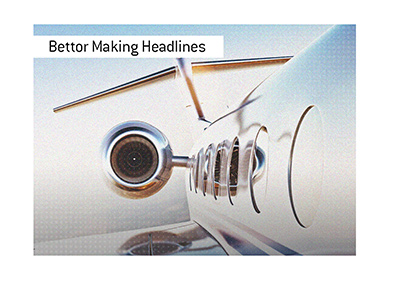 If you ask sportsbooks where they make the most money, they would likely tell you: parlays involving betting favourites.
In case you don't know, a parlay is a betting ticket where you need multiple games to go your way in order to win.
So, let's say that your parlay consists of the Patriots beating the Dolphins on the moneyline and the Broncos beating the Raiders on the moneyline. If the Patriots and Broncos both win, you win your ticket. If one or both of the teams lose, your parlay would also lose.
Sportsbooks love parlays involving big favourites, as one upset busts an entire ticket.
For this reason, sportsbooks must love Ben "Parlay Patz" Pats, who is a 23 year-old amateur bettor who has made headlines over the past few months for the outrageous sums of money that he has won by betting on parlays.
According to ActionNetwork.com (which features Patz's bets), the amateur gambler collected nearly $700,000 in just three weeks from parlay bets.
The run for Patz started when he hit a 15-leg parlay for $237,000. The total cost for this parlay? $1,800.
Patz followed this up with a 13-leg parlay that paid out $326,000 and cost him a total of $7,000.
In the case of both parlays, Patz needed EVERY one of the games to go his way in order to get paid. Hitting a 15-leg parlay is nearly impossible, even when you are choosing heavily favoured teams on the money line.
For instance - the New England Patriots were monster favourites to beat the Miami Dolphins at home this past weekend. The Patriots had plenty to play for, as they would have secured a first round bye with a victory.
Ryan Fitzpatrick and company had something different in mind, however, as they played the role of spoiler and upset the Patriots on the road.
Now, many people would have assumed the Pats were locks to win and included them in a parlay filled with favourites. Well, this single loss by the Patriots would have busted the entire parlay ticket.
-
Patz has made a great deal of waves over the past couple of months, as he is a young guy that rented a chartered jet with some of his winnings.
This is exactly what the sportsbooks want to see, as now everybody will be following Patz into the not-so-lucrative world of moneyline favourite parlay tickets.
Professional gamblers will look to bet on single games where they feel that they have an edge - in many cases, they will take the underdogs where they feel that there is value.
Gamblers like Patz, on the other hand, will eventually incinerate their bankrolls on multi-leg parlay tickets that involve plenty of favourites needing to win.
If you are thinking about following Patz's system, be cautious - there is a reason why sportsbooks will book this action so readily.