Eddie LeBaron, Davey O'Brien Both Stood 5'7
Published on May 10th, 2023 1:08 pm EST
Written By:
Dave Manuel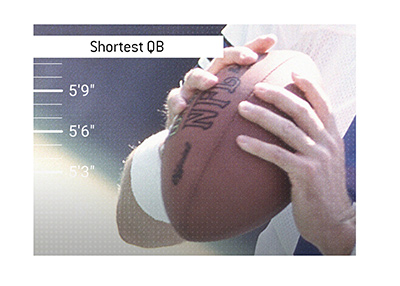 Every year, when the NFL Draft rolls around, much is made about the heights of the quarterbacks in the draft class.
There is no doubt that NFL teams prefer tall quarterbacks. After all, it is easy to see the advantage in being a tall quarterback, as you'll be able to see over the offensive and defensive linesmen.
Shorter quarterbacks have done well in the NFL over recent years - Kyler Murray, Russell Wilson and Drew Brees are just some of the "shorter" quarterbacks that have done well.
-
The question becomes - who was the shortest quarterback to ever play in the NFL?
Two NFL quarterbacks -
Davey O'Brien
and
Eddie LeBaron
- both clocked in at 5'7, making them the shortest quarterbacks of all time.
Eddie LeBaron, sometimes referred to as the "Little General", was drafted in the 10th round of the 1950 Draft by the Washington Redskins.
After returning from the Korean War, LeBaron joined the Redskins, where he won Rookie of the Year in 1952.
LeBaron, who is in the Washington Commanders Ring of Fame, made the Pro Bowl a total of 4 times, and finished his career with 13,399 passing yards and 104 touchdowns.
After leaving to play in Canada in the mid 1950s, LeBaron returned to the United States, where he played with both the Redskins and Cowboys.
LeBaron enjoyed an interesting career after retirement, where he was an announcer for CBS Sports and eventually served as the GM of the Atlanta Falcons.
-
Davey O'Brien also stood 5'7.
The TCU QB was the fourth overall pick in the 1939 draft, being selected by the Philadelphia Eagles.
This was before the days of lucrative contracts, so O'Brien's time in the league was short, despite the fact that he was a 2x Second-team All-Pro.
After just two years in the league, O'Brien decided that he was going to work for the FBI, and his football career was over, just like that.
-
It's hard to imagine that there will ever be a NFL quarterback shorter than 5'7, especially given how big the players are these days.