The "Saskatoon Blues" Came Very Close to Reality in Early 1980s
Published on May 20th, 2023 4:17 pm EST
Written By:
Dave Manuel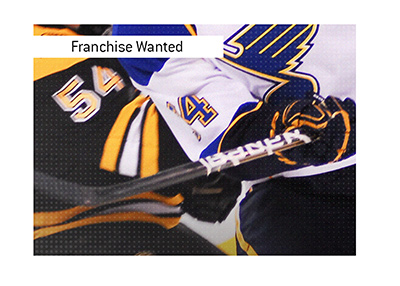 In 1983, the province of Saskatchewan came very close to landing a NHL team.
How close?
The purchase agreement was signed, and all that stood in the way of the St. Louis Blues moving to Saskatoon was a vote by the NHL's owners.
-
In 1983, Ralston Purina Company sold the St. Louis Blues to a group that was led by Bill Hunter, who was one of the founders of the WHA (World Hockey Association).
Hunter, who had owned the Edmonton Oilers for a time, was eager to bring a team to Saskatoon.
Ralston Purina Company was tired of their ownership in the St. Louis Blues losing them money, so they decided to offload the franchise to a group that was going to move the team to Saskatoon.
-
The Bill Hunter-led group had big plans for the Saskatoon Blues, and plans for a new 18,000 arena in Saskatoon were drawn up.
The deal between the two sides was agreed to, as Ralston Purina would sell the Blues to the Saskatoon group for $12 million.
With a stroke of the pen, hockey in St. Louis would be dead, and Saskatoon would be getting a NHL team.
-
The wrench in the works? The NHL.
The NHL Board of Governors needed to vote 75%+ in favour of the deal, and this didn't happen, as they ended up voting against the sale 15-3.
The stated reason behind the vote against the move? Saskatoon simply wasn't a big enough market for a NHL team.
Ask people who live in the area, and they would tell you that this is nonsense, as the Saskatchewan Roughriders have been wildly successful for decades.
The real reason likely lies with the NHL's disdain for Bill Hunter, who was one of the driving forces behind the WHA, which was a pain in the side of the NHL for years.
-
In the end, the deal was abandoned and the Blues were thrown into complete disarray.
There was talk of the NHL contracting the Blues franchise, though the St. Louis Blues were saved and continue to thrive to this day.
The people of Saskatchewan still desperately want a NHL franchise, many years later.