Lott Would Regret The Move For The Rest of His Life
Published on June 3rd, 2022 12:50 pm EST
Written By:
Dave Manuel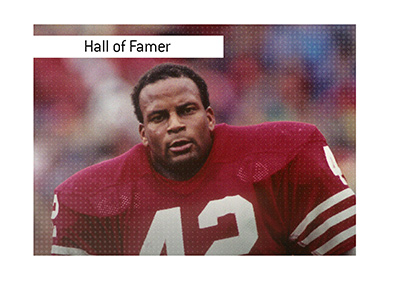 Ronnie Lott is a certifiable NFL legend.
Lott is considered one of the best safeties to have ever played the game, and he won four Super Bowls over the course of his Hall of Fame career.
Lott was also considered to be very, very tough, and that would ultimately cost his something very dear - his pinkie finger.
-
It was December of 1985, and the San Francisco 49ers were in the middle of their incredibly dominant run.
It was the last game of the season, and the 49ers were playing against the Dallas Cowboys.
While trying to make a tackle on running back Timmy Newsome, Ronnie Lott shattered his pinkie finger.
The playoffs were just around the corner, and Ronnie Lott had a big decision to make that would change the rest of his life.
-
Team doctors put a seemingly insane choice to Lott. You can either:
1) Put a pin in your finger and it will heal in two months, but you'll miss the rest of the season
2) Amputate your pinkie finger from the first joint up and play right away
Ronnie Lott chose amputation, and a chunk of his pinkie finger was lopped off.
There is no way that this would even be a consideration in this day and age, but this is exactly what happened.
-
Lott wouldn't slow down at all due to the amputated pinkie finger.
In fact, he would turn in the best year of his career in 1986, hauling in 10 interceptions over just 14 games.
-
Lott has said that he has regretted the move and that he should have just let his finger heal.
Lott said that he felt "sick" after he realized what he had done, and that the incident gave him a new perspective on life. He also says that he wishes that somebody had looked out for him and that we are losing the compassionate side of sports.
-
Ronnie Lott would go on to play nine more full seasons in the NFL after getting his pinkie amputated, and would ultimately enter the Pro Football Hall of Fame as one of the greatest safeties of all time.