Roger Staubach Was Drafted in the 10th Round and Would Become One of NFL's Best Ever Players
Published on August 22nd, 2021 10:12 am EST
Written By:
Dave Manuel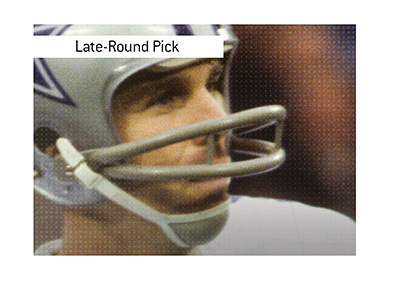 When you talk about late-round picks who went on to achieve greatness, it's tough not to list Tom Brady at the top of the list.
After all, Tom Brady was drafted in the sixth round and went on to become the greatest player of all time.
Roger Staubach, however, is another all-time great who was taken very late in the draft - in fact, he was taken in the 10th round by the Dallas Cowboys in 1964.
-
The story of Staubach is a very unusual one that may never be repeated ever again in the NFL.
Staubach won the 1963 Heisman Trophy while playing for the U.S. Naval Academy.
So, given that he won the Heisman, why was Staubach taken in the 10th round of the 1964 NFL Draft?
The answer - military commitments.
After graduating from the U.S. Naval Academy, Staubach had a lengthy military commitment that included a tour of duty in Vietnam.
The Dallas Cowboys had to be patient - in the end, Staubach wouldn't start playing in the NFL until 1969, a full five years after he was drafted.
Patience paid off for the Cowboys, as Staubach would end up becoming one of the greatest quarterbacks of all time.
-
After Staubach joined the team, the Cowboys went to the Super Bowl five times, winning twice (Super Bowl VI and XII).
Staubach was named to the Pro Bowl a total of six times over his 11 year career (all with the Cowboys). He also won Super Bowl MVP at Super Bowl VI.
-
The unbelievable thing about Staubach is that arguably his best year in the NFL was his last one (1979).
In that season, Staubach passed for 3,586 yards, 27 touchdowns and just 11 Interceptions.
Concussions were a big concern for Staubach, however, and doctors told him that one more concussion could have life-changing consequences.
So, despite a two-year offer from the Cowboys on the table, Staubach elected to retire.
-
This is the story of how a 10th round pick from the US Naval Academy became one of the best QBs of all time.