Ismail Was The Projected #1 Pick in 1991 NFL Draft
Published on October 23rd, 2022 11:47 am EST
Written By:
Dave Manuel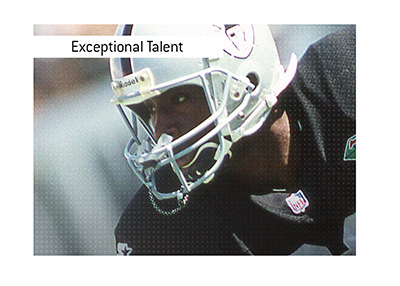 Try to imagine this scenario taking place in this day and age:
The projected #1 overall pick in the NFL Draft decides at the last second to forego the NFL and sign in the Canadian Football League instead.
This is exactly what happened in 1991, when Raghib "The Rocket" Ismail shocked the world by signing with the Toronto Argonauts of the CFL (Canadian Football League).
Ismail, who finished second in the 1990 Heisman Trophy voting, was an exceptional talent.
While the Dallas Cowboys had other positional needs, it is largely accepted that they would have selected Ismail with the #1 overall pick in the 1991 NFL Draft.
The Toronto Argonauts, however, had other ideas.
-
In 1991, the Toronto Argonauts were owned by Wayne Gretzky, John Candy and Bruce McNall.
The team had money to blow, and they were looking to make a splash.
The Argonauts offered Ismail a $18.2 million, 4-year deal to come and play in the CFL.
This seems like a pittance in this day and age, but back in 1991 that was a massive offer.
At the time, Joe Montana was the highest-paid player in the NFL, as he was making $3.25 million per year.
Ismail would be making far more than that right out of the gate, which was too good of an offer to turn down.
In addition, if things didn't work out in the CFL, Ismail would still be in his prime and could move to the NFL.
The Los Angeles Raiders were hopeful that Ismail's stay in the CFL would be a short one, as they selected him in the fourth round.
-
Ismail shocked the world by signing with the Argonauts, though his stay with the team would only last two years.
Bruce McNall started to come under financial strain in 1992. With the team slumping to a 6-12 record, Ismail and the Argonauts elected to part ways at the end of the 1992 season.
In addition, the bloom started to come off of the Raghib Ismail rose, as he was involved in an ugly brawl in 1992 that saw him stomp an opposing player's face.
Ismail was not loving the CFL anymore, and the two sides would part ways in 1992.
-
Ismail would return to the NFL in 1993, where he would not make much of an impact initially.
Interestingly, Ismail's best years came in his last 20s/early 30s, when he posted two consecutive 1,000+ yard receiving seasons with the Panthers and Cowboys.
Ismail's last season in the NFL came in 2001, when he posted 834 receiving yards in just 14 games.
-
Will something similar ever happen in the future, with a projected #1 overall pick electing to sign with a completely different league?
Almost certainly not.