Bobby Orr Notched 139 Points (37 Goals, 102 Assists) in 1970-71 Season
Published on March 24th, 2023 2:33 pm EST
Written By:
Dave Manuel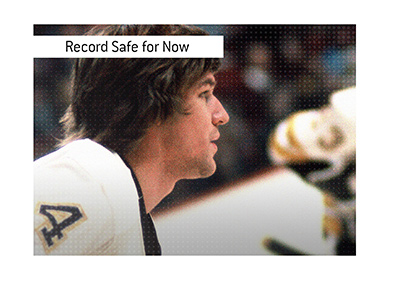 There is a reason why Bobby Orr is regarded as the greatest offensive defenseman of all time (and one of the greatest players of all time).
The list of the highest scoring campaigns by a NHL defenseman is dominated by two players - Bobby Orr and Paul Coffey.
In fact, Bobby Orr can lay claim to three of the top five highest scoring campaigns ever by a NHL defenseman.
-
In 1970-71, Bobby Orr put together a campaign that may never be top by a NHL defenseman.
Over the course of 78 games, Bobby Orr scored 37 goals and 102 assists while playing for the Boston Bruins, for a total point total of 139 points.
Four years later, Orr would threaten his own record, as he would finish the 1974-75 campaign with 46 goals and 89 assists for 135 points.
Paul Coffey would come the closest to breaking Bobby Orr's record in 1985-86, when he notched 48 goals and 90 assists for a total of 138 points.
In the end, Coffey would fall short, and nobody has come close to breaking the record since.
-
To give you an idea of how safe Orr's record is, Roman Josi posted the most points by a defenseman since 2000 in the 2021-22 season, when he recorded 23 goals and 73 assists for a total of 96 points.
Despite Josi's fantastic season, he still finish more than FORTY points behind Bobby Orr's record.
-
Here are the top five seasons for a NHL defenseman, by points, in the history of the league:
Bobby Orr, 139 points, 1970-71
Paul Coffey, 138 points, 1985-86
Bobby Orr, 135 points, 1974-75
Paul Coffey, 126 points, 1983-84
Bobby Orr, 122 points, 1973-74