Jim Hardy Tossed Eight Interceptions in a Single Game in 1950
Published on September 3rd, 2022 3:10 pm EST
Written By:
Dave Manuel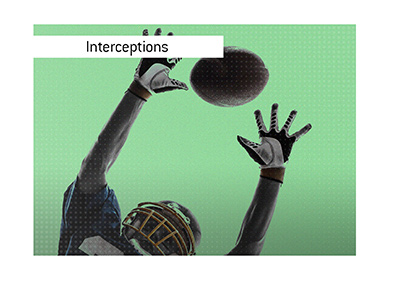 People like to talk about Nathan Peterman's five interception game, but the reality is that wasn't even CLOSE to the record for most interceptions in a single game.
In fact, one of the best quarterbacks of all time - Peyton Manning - managed to throw SIX picks in a single game in 2007.
It can happen to even the best of them.
The record for most picks in a single game belongs to JIM HARDY, who threw eight interceptions in a single game in 1950.
Hardy posted an absolutely awful stat line of:
12-39, 193 yards
8 interceptions
1 touchdown
It's hard to comprehend that Hardy almost threw more interceptions than completions.
-
Five quarterbacks - Steve DeBerg, Ty Detmer, Ken Stabler, Tommy Wade and Zeke Bratkowski - have thrown seven picks in a single game.
Ken Stabler was a very good quarterback who just happened to have a very bad game. Stabler made the Pro Bowl four times, won MVP in 1974 and was inducted into the Hall of Fame in 2016.
-
An even larger number of players had games where they threw six interceptions.
In fact, a couple of players managed to pull this off twice - Bobby Hebert and Brian Sipe.
Brian Sipe threw six interceptions in a single game twice within two years, and they both came against the Pittsburgh Steelers.
-
It's not often that you see these high interception games in this day and age - in fact, the last six interception game came six years ago.
There are likely two reasons for this:
1. Quarterbacks will be pulled if they are having really bad games.
2. Quarterback play continues to improve, and rule changes continue to benefit QBs.
Back in the day, somebody like Jim Hardy would be left in all game.
Now, if somebody is struggling at the half, coaches will not hesitate to pull them from the game.