Atlantic Defeated Griswold 109-0 On April 26th, 1928
Published on March 18th, 2023 1:29 pm EST
Written By:
Dave Manuel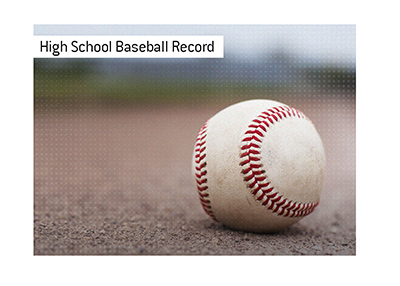 On April 26th, 1928, Atlantic and Griswold made history.
On April 26th, 1928, Atlantic and Griswold set records that still stand to this day.
On that day, Atlantic destroyed Griswold by a score of 109-0, to set the records for biggest win in high school baseball history and most runs scored in a single game (though Griswold certainly didn't help, as they were shutout).
-
Back in those days, there was no "mercy rule", so Griswold had to endure the humiliating beatdown from start to finish.
There was a slight bit of mercy shown, however, as the game was called after the eighth inning, as the scorekeeper was apparently "exhausted" and wanted to go home.
To make matters worse, Atlantic's pitcher, Don King, pitched a no-hitter.
So, not only did Griswold lose by a score of 109-0, but they didn't even manage a single hit on the day.
It was a day for the age for Don King, as not only did he pitch a no-hitter, but he also went 15-17.
-
Atlantic got off to a strong 4-0 start after the first inning.
In the second inning, Atlantic scored a ridiculous
30
runs, as their entire team reached the batter's box multiple times.
By the end of the third inning, Atlantic was up by a score of 46-0.
Atlantic scored 6 runs in each of the 4th, 5th and 6th innings, and then added a total of 45 runs in the 7th and 8th innings combined.
After the eighth inning, the game was called.
-
Atlantic scored 109 runs, with 92 hits and 1 error.
Griswold scored 0 runs, had 0 hits and committed 22 errors.
In total, Atlantic notched 16 home runs to go along with 23 doubles and 6 triples.
-
With mercy rules now in place, these are records that will never be broken.