On July 13th, 1972, LA Rams Were Traded For Baltimore Colts
Published on May 29th, 2022 3:33 pm EST
Written By:
Dave Manuel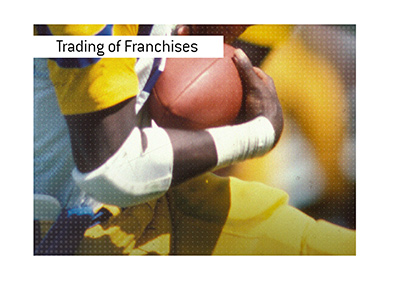 Players can get traded.
Coaches can get traded.
But what about an entire franchise?
On July 13th, 1972, the only officially recognized trade of franchises took place in the NFL, as the Los Angeles Rams were dealt for the Baltimore Colts.
-
Two things directly led to the trading of the Rams for the Colts:
1) Los Angeles Rams owner Dan Reeves passed away
2) The Baltimore Colts couldn't get a stadium deal done, and the NFL wouldn't let them move
After the conclusion of the 1971 season, Robert Irsay bid $19 million for the Los Angeles Rams, outbidding Hugh Culverhouse.
The owner of the Baltimore Colts at the time, Carroll Rosenbloom, had a brilliant idea - why not trade franchises with Robert Irsay? By trading franchises, instead of selling the Colts and buying another team, Rosenbloom would avoid a steep capital gains tax hit, plus he would be able to leave Baltimore, where he was growing increasingly frustrated.
On July 13th, 1972, with the blessing of the NFL, Irsay and Rosenbloom agreed to trade franchises, with Irsay receiving the Colts and Rosenbloom receiving the Rams.
In addition to receiving the Colts, Irsay also received a multi-million payment from the NFL that was owed for moving the Colts to the AFC.
-
For the teams involved, nothing much changed, as all of the contracts stayed with each respective team. They just had new owners.
In the mid '80s, the Colts would leave for Indianapolis, though the trading of franchises likely didn't impact this move very much, as Rosenbloom had been agitating for a new stadium as well, and had also threatened to leave Baltimore.
-
There is a very good chance that we will never see a trading of franchises ever again in the NFL.