Where To Bet on Melbourne Cup
Race Details:
Date: 2023.11.06
Grade: -
Open To: Horses Aged Three and Up
Track: Turf
Length: 3,200 Metres
Location: Australia
The Melbourne Cup is the biggest horse race in Australia, with the event having a rich 160+ year history. Unless something unexpected happens (wars, etc), the race takes place on the first Tuesday of every November. In 2023, the tradition will continue, as the event will be held on Tuesday, November 6th.
-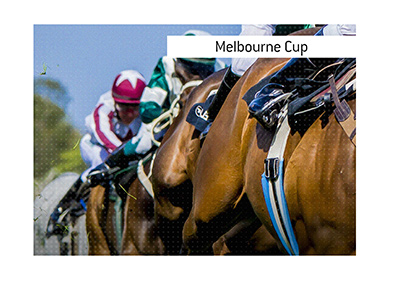 The race is held at the Flemington Racecourse, which is located just outside of downtown Melbourne.
The race is held on a 3200 metre turf track, and is open to three year-olds and up.
The Melbourne Cup is a handicap race, meaning horses carry different weights determined by the handicapper. The aim is to equalize the chances of the horses and make the race more competitive.
The purse is substantial, as the 2020 purse was 8 million Australian dollars.
The all-time winningest horse in this race is Makybe Diva, who won three straight times from 2003-2005.
Makybe Diva is the only horse to have ever won the event three times.
Two jockeys - Bobbie Lewis and Harry White - have won the race a total of four times, while the all-time winningest trainer is Bart Cummings, who has trained a total of 12 horses to victory.
The race is attended by more than 100,000 people, and millions watch the race on television.
--
The Melbourne Cup is such a significant event in Australia that the race day has been designated as a public holiday in Melbourne and some parts of Victoria. The event is often referred to as "the race that stops a nation" because many Australians around the country take part of the day off to watch the race. The day also typically involves a variety of social events and fashion displays, making it a cultural event as well as a sporting one.
--
View more
Horse Races