Ben Roethlisberger Leads Way With 554 Total Sacks
Published on February 16th, 2022 3:21 pm EST
Written By:
Dave Manuel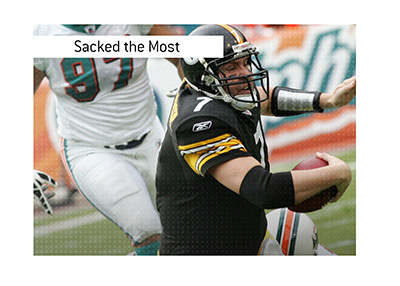 There has been a great deal of discussion as of late regarding Joe Burrow and the number of times that he is sacked over the course of a season.
During the Bengals postseason run during the 2021 season, Burrow was sacked an alarming number of times, and it is incredible that the team managed to make it to the Super Bowl.
It's important for teams to limit the number of times that their quarterback gets sacked, for obvious reasons. The biggest reason? Preserving the health of their quarterback, as it is not good for your health if you are constantly getting hit by 300 pound defensive players.
-
So - which NFL quarterback has been sacked the most over the course of their career?
If you are guessing, you'd probably want to think about quarterbacks with long careers that didn't have much in the way of mobility.
Ben Roethlisberger certainly fits the bill, and it shouldn't surprise you to hear that he has been sacked 554 times over the course of his career, which is more than any other quarterback.
Roethlisberger had amazing durability, as he played through many injuries.
In addition, he was extremely limited in terms of his mobility, which resulted in a large number of sacks.
Roethlisberger was sacked 554 times over the course of 249 career games.
-
Second on the list? Another quarterback that had trouble with mobility - Tom Brady.
Brady was sacked a total of 543 times over the course of his career, though he played 69 more games than "Big Ben".
Here is the top 6 as of early 2022:
1. Ben Roethlisberger, 554 sacks
2. Tom Brady, 543 sacks
3. Brett Favre, 525 sacks
4. John Elway, 516 sacks
5. Aaron Rodgers, 498 sacks
6. Dave Krieg, 494 sacks