Money Continues To Flow Towards President Trump as More Bettors Bet on His Victory
Published on August 3rd, 2019 7:43 pm EST
Written By:
Dave Manuel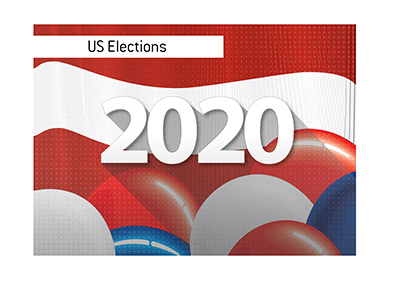 For the first time ever, President Donald Trump is now the betting favorite to win the 2020 US Presidential election.
Even in the days after his win in 2016, President Trump wasn't the betting favorite to win in 2020.
A year ago (August 2018) President Trump had the best odds to win the 2020 election, though he was far from being the betting favorite (meaning, he didn't have better than even money odds of winning).
In fact, prior to the Mueller report being released, Trump was roughly 2/1 (and even worse, depending on the sports book) to win the upcoming election.
Since that time, however, things have changed, and Trump is clearly gaining momentum, at least with the betting public.
As of this moment, President Trump is -110 to win the 2020 election, which means that you would have to bet $110 on President Trump winning in order to have a chance of winning $100 back.
The person with the next best odds to win? Vice President Joe Biden, who is currently listed at +500 to win. Here are some of the other notable names and their current betting odds:
Kamala Harris, +700
Elizabeth Warren, +800
Bernie Sanders, +1400
Pete Buttigieg, +1400
-
Why the surge for President Trump over the past few months? There are a few reasons, including:
1) The Mueller Report wasn't nearly as damaging as most people assumed
2) The US economy continues to do well
3) The incumbent's advantage
If you look back over the past number of decades, the only time that an incumbent President lost his re-election bid is when the economy was weak during his re-election bid - Jimmy Carter and George H.W. Bush.
If the economy is strong, beating an incumbent is extremely difficult. Unless the wheels fall off of the US economy in short order, President Trump should be running in the midst of upbeat economic numbers and a strong stock market.
There are a myriad of issues that matter to people in the 2020 election, though the most important for US families is usually the state of the economy. If the economy is strong, President Trump will be tough to beat, and gamblers are putting their money on that.