John Harbaugh Continues To Be a Beast in the Preseason
Published on August 18th, 2021 4:48 pm EST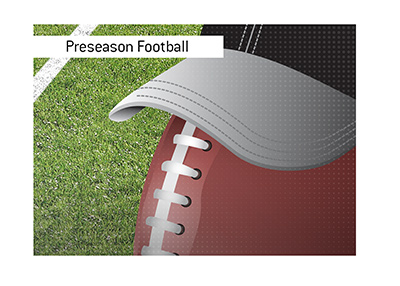 Preseason NFL football can be fairly difficult to make money on, though there are a few obvious trends that can be exploited.
To start, the earlier preseason games tend to be quite low-scoring, as the team's most skilled players are usually playing little, if at all.
Also, some coaches tend to take the preseason very seriously, including John Harbaugh, who is practically immortal in the preseason.
-
If you are looking for trends, this article is a good place to start. Here are the straight up, ATS and over/under numbers for all of the NFL's 32 coaches:
*note: we do our best to update these, and they may not be completely accurate*
Straight Up
Kliff Kingsbury, 2-3
Arthur Smith, 0-1
John Harbaugh, 38-12
Sean McDermott, 8-5
Matt Rhule, 0-1
Matt Nagy, 4-6
Zac Taylor, 2-3
Kevin Stefanski, 1-0
Mike McCarthy, 28-25
Vic Fangino, 3-3
Dan Campbell, 0-1
Matt LaFleur, 2-3
David Culley, 1-0
Frank Reich, 5-4
Urban Meyer, 0-1
Andy Reid, 40-45
Brandon Staley, 1-0
Sean McVay, 6-7
Jon Gruden, 37-18
Brian Flores, 3-2
Mike Zimmer, 20-6
Bill Belichick, 47-36
Sean Payton, 28-31
Joe Judge, 0-1
Robert Saleh, 1-0
Nick Sirianni, 0-1
Mike Tomlin, 33-23
Pete Carroll, 25-16
Kyle Shanahan, 6-7
Bruce Arians, 12-14
Mike Vrabel, 3-6
Ron Rivera, 20-17
ATS
(prior to 2021 preseason)
Bill Belichick, 41-38-6
Andy Reid, 39-41-4
Pete Carroll, 35-18
John Harbaugh, 34-15
Sean Payton, 27-26
Mike Tomlin, 27-27-1
Mike McCarthy, 26-25-2
Jon Gruden, 22-12-3
Ron Rivera, 19-16-1
Mike Zimmer, 17-8
Bruce Arians, 12-10-3
Sean McDermott, 7-5
Kyle Shanahan, 6-5-1
Sean McVay, 6-5-1
Frank Reich, 5-3
Matt Nagy, 4-5
Brian Flores, 4-0
Matt LaFleur, 2-2
Vic Fangio, 2-3
Mike Vrabel, 2-6
Zac Taylor, 1-3
Kliff Kingsbury, 1-3
Urban Meyer, 0-0
Brandon Staley, 0-0
Matt Rhule, 0-0
Arthur Smith, 0-0
Robert Saleh, 0-0
Nick Sirianni, 0-0
Dan Campbell, 0-0
David Culley, 0-0
Joe Judge, 0-0
Kevin Stefanski, 0-0
Over/Under
(prior to 2021 preseason)
Bill Belichick, 41-42-2
Andy Reid, 46-37-1
Pete Carroll, 24-29
John Harbaugh, 22-26-1
Sean Payton, 23-26-4
Mike Tomlin, 22-33
Mike McCarthy, 29-24
Jon Gruden, 17-20
Ron Rivera, 20-15-1
Mike Zimmer, 11-13-1
Bruce Arians, 12-13
Sean McDermott, 7-5
Kyle Shanahan, 6-6
Sean McVay, 3-8-1
Frank Reich, 3-5
Matt Nagy, 7-1-1
Brian Flores, 1-3
Matt LaFleur, 4-0
Vic Fangio, 0-5
Mike Vrabel, 3-4-1
Zac Taylor, 2-2
Kliff Kingsbury, 1-3
Urban Meyer, 0-0
Brandon Staley, 0-0
Matt Rhule, 0-0
Arthur Smith, 0-0
Robert Saleh, 0-0
Nick Sirianni, 0-0
Dan Campbell, 0-0
David Culley, 0-0
Joe Judge, 0-0
Kevin Stefanski, 0-0