Mark Moseley Received 42% of MVP Votes in 1982
Published on April 1st, 2022 3:02 pm EST
Written By:
Dave Manuel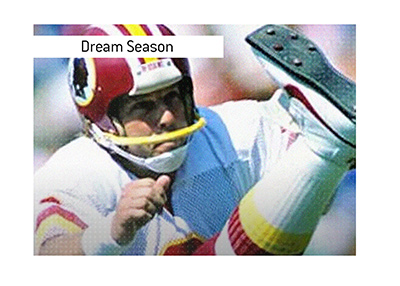 Here is an interesting piece of NFL history for you - Jerry Rice, undoubtedly the greatest wide receiver in the history of the NFL, never won the NFL's MVP award, but a placekicker did.
That's right - in 1982, Mark Moseley, a placekicker for the Washington Redskins, received 35 of 84 votes (42%) to win the MVP award.
This is one of the few occasions when a quarterback or running back didn't win the award in the history of the NFL.
-
So how did Mark Moseley, who was nearly cut by the Washington Redskins prior to the 1982 season, end up beating out Dan Fouts and Marcus Allen for the award?
Well, Moseley managed to set two notable records during the 1982 season, including:
Longest Consecutive FG Streak - 23
Highest Single-Season FG Accuracy - 95.2%
Moseley also accounted for a total of 76 points that season.
The 1982 season was shortened by a strike, so it remains to be seen if Moseley would have won the award over the course of a full year.
-
Moseley would top off his dream season by winning the Super Bowl that year, as he helped the Redskins out with two field goals and three extra points in the Super Bowl.
-
Here is how the votes ended up in the 1982 MVP vote:
Mark Moseley, 35 votes
Dan Fouts, 33 votes
Marcus Allen, 6 votes
Joe Theismann, 3 votes
Danny White, 2 votes
That is some pretty elite company that Moseley managed to beat out in 1982.
Will we ever see another placekicker win the MVP award? Probably not - if Justin Tucker couldn't win, nobody will likely be able to take down the award.