1969-70 Philadelphia Flyers Tied a Total of 24 Games
Published on October 3rd, 2023 11:14 am EST
Written By:
Dave Manuel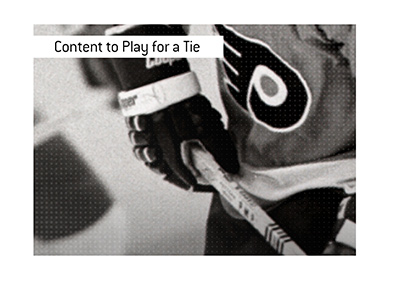 Here is another NHL record that will NEVER be broken thanks to rule changes.
During the 1969-70 regular season, the Philadelphia Flyers tied a total of 24 games, edging out the 23 tie record that was co-held by the 1962-63 Montreal Canadiens and 1973-74 Chicago Blackhawks.
During the 76 game season in 1969-70, the Philadelphia Flyers finished with a record of 17-35-24.
The Flyers didn't score much that season (averaged 2.59 goals per game), but they didn't give up many goals either (less than 3 goals per game).
This resulted in many low-scoring games for the Flyers, which translated into a large number of ties.
-
Up until November 21st, 1942, the NHL had a non-sudden death overtime period of 10 minutes.
This was eliminated due to war time restrictions.
From November 21st, 1942 until June 23rd, 1983, there was no overtime - if a game was tied after 60 minutes, the final result was a tie.
The five-minute overtime period was introduced for the 1983-84 regular season.
-
The Flyers, who weren't very good in 1969-70, were perfectly content to play for a tie.
If a game was tied in the third period, the Flyers would sink into a defensive shell, perfectly content to forego offense in exchange for keeping the game tied.
This resulted in many boring games involving the Philadelphia Flyers in 1969-70.
The strategy almost worked, however, as the Flyers very nearly made the playoffs, during winning just 17 games.
-
Again - an unbreakable record due to NHL rule changes.