Fan Knocked Down Pass, Helping Patriots To Win Game
Published on May 23rd, 2023 7:16 pm EST
Written By:
Dave Manuel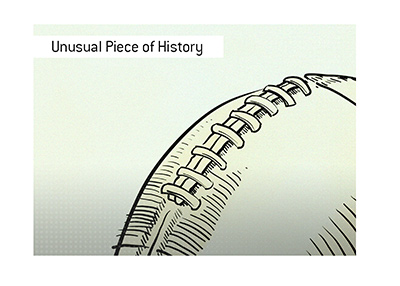 The date was November 3rd, 1961, and the Boston Patriots were playing at home against the Dallas Texans.
The Texans were 3-5, while the Patriots were 5-3-1, though the Patriots would need a bit of extra help to win the game.
-
With time running out in the game and the Texans driving, fans left the stands to crowd around the field.
With the Texans on the Patriots' 1-yard line, one of the fans on the sideline appeared in the Patriots backfield and actually lined up on defense.
The man, who was wearing a trenchcoat, remained motionless until the ball was snapped, and then jumped into action.
Dallas QB Cotton Davidson attempted to find Chris Burford in the endzone with time running out in the game.
The "man in the trenchcoat" managed to actually get his hand on the pass, knocking it harmlessly to the ground, and the Patriots won the game.
-
A few points about this story, which is absolutely true.
To start - there are rumors (never refuted) that the "man in the trenchcoat" was actually Patriots owner Billy Sullivan.
Now, you are probably asking yourself - the referees didn't replay the down?
The answer is - no they didn't.
Try to imagine something similar happening in this day and age.
A fan sneaks onto the field, into the game and actually changes the course of the game, without the referees replaying the down, and without anything happening to him.
That would never, ever happen in this day and age, which is why the 1961 incident involving the Boston Patriots is such an unusual piece of football history.