Chris Weinke Won The Award at the Age of 28
Published on December 15th, 2022 1:13 pm EST
Written By:
Dave Manuel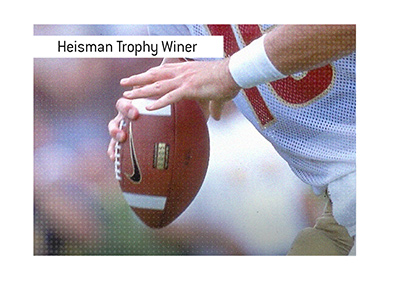 Chris Weinke was a true athlete.
Chris Weinke was also the oldest player to ever win the Heisman Trophy, as he accomplished the feat at the age of 28.
This is probably a record that will never be topped.
-
As mentioned, Chris Weinke was a true athlete, excelling in both baseball and football.
Weinke was recruited by Florida State's football program, but he elected to pursue baseball out of high school instead.
Weinke spent six years in the Toronto Blue Jays farm system, making it as high as AAA before deciding on a new career path.
Bobby Bowden had recruited Weinke out of high school, and one day Bowden's phone rang.
It was Chris Weinke.
Weinke wanted to know if Bowden was still interested in recruiting him, even though Weinke was now 25 years of age.
Of course, Bowden said.
Bowden offered Weinke a scholarship, which Weinke accepted. Bowden stipulated that Weinke wasn't guaranteed anything, and would have to earn the starting position on the team.
This is exactly what Weinke did, as he soon earned the starting job.
Weinke was outstanding during his time with Florida State, as the team won a national title and narrowly missed out on going back-to-back.
Weinke's senior year was especially good, as he put up 4,167 yards en route to winning the Heisman Trophy.
At the age of 28, Weinke was on top of the football world.
-
Weinke's age certainly hurt him in the 2001 NFL Draft, as he was taken in the fourth round by the Carolina Panthers.
Weinke had an unspectacular career in the NFL, where he mainly served as a backup QB before retiring in 2008.