Roughly 20 Games Per Season End Up Going To Overtime
Published on September 12th, 2023 8:19 pm EST
Written By:
Dave Manuel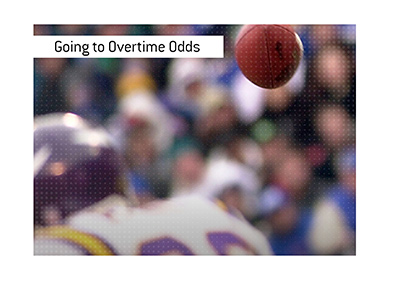 What are the odds of a NFL game going to overtime?
How many NFL games go to overtime every season?
The overtime period was added to the NFL's rules in 1974 - prior to that, games would just end in a tie if the two teams had the same number of points at the end of the fourth quarter.
From 1974 to 2022,
647 games
were decided in overtime.
-
With the 17-game regular season, roughly 20 games per year go into overtime.
There are 272 games in the regular season, which means that approximately
7.4% of all NFL regular season games
need to be decided in overtime.
The number of games going into overtime has trended higher over the years, for a number of different reasons:
1) More regular season games (longer schedule, more teams)
2) Better coaching
3) More parity in the league
-
The team that has played the most overtime games? That would be the Minnesota Vikings, who have needed overtime a total of 52 times to decide their games.
The two teams with the least amount of overtime appearances? No surprise here, as the Jacksonville Jaguars and Houston Texans (two expansion franchises) have gone to overtime just 19 times.
-
The team with the best winning percentage in overtime games? The Arizona Cardinals, who have won 64.6% of the time that they have gone to overtime.
The team with the worst winning percentage in overtime games? The Seattle Seahawks, who have a winning percentage of just 35.2% in overtime games.