Why Can't Players Wear The Number 0 In the NFL?
Published on February 28th, 2023 3:33 pm EST
Written By:
Dave Manuel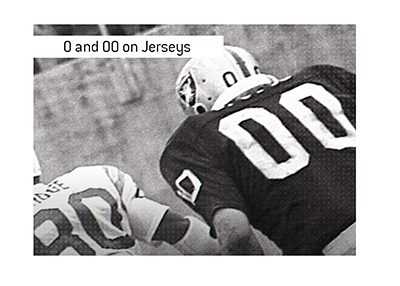 In 1973, the NFL introduced a standardized numbering system for their players.
Players were allowed to keep their current numbers, though any new players in the league were allowed to pick from a small amount of jersey numbers, depending on their position.
Jim Otto, for instance, who wore 00, was allowed to keep his number for the rest of his career.
-
In 2021, the NFL expanded the numbers that were available to each position. Here are the current groupings:
QB - 1-19
RB/TE/WR - 1-19, 20-49, 80-89
OL - 50-59, 60-79
DL - 50-59, 60-79, 90-99
LB - 1-19, 20-49, 50-59, 90-99
DB - 1-19, 20-49
K/P - 1-19
So, if you are a quarterback, you are only allowed to pick a jersey number between 1 and 19. If you want to wear the number #25, for instance, you are out of luck.
-
As you can see, there is no option for either the 0 or 00 jersey numbers.
Other leagues, such as the NBA, allow its players to choose 0 or 00.
Earlier this week, the Philadelphia Eagles petitioned the NFL to start allowing players to choose the 0 or 00 number for their jerseys.
It's unknown if the NFL will be willing to include these numbers into their standardized numbering system.
-
Some of the NFL players that wore 0 or 00 before the standardized rules were introduced includes Johnny Clement, Jim Otto and Johnny Olszewski, to name a few.