How Did These Moves End Up Working Out?
Published on March 11th, 2023 2:08 pm EST
Written By:
Dave Manuel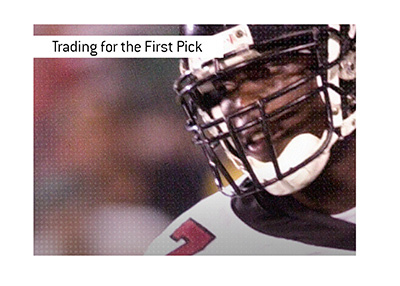 Earlier this week, the Carolina Panthers made a big splash by trading a number of assets (two firsts, two seconds, DJ Moore) to the Chicago Bears in return for the first overall pick in the upcoming NFL Draft.
Teams don't tend to trade out of the #1 overall pick that much - usually they are desperate for a quarterback and no amount of draft capital will keep them from drafting the top quarterback available.
The Chicago Bears, however, have their quarterback, so they were in a perfect position to trade out of the top pick.
-
Here is the history of teams trading for the first overall pick, and how it ended up working out:
2016 - the Rams traded with the Tennessee Titans to secure the first overall, and they selected
Jared Goff
first overall.
In hindsight, this draft was very weak for quarterbacks, and the Goff trade didn't end up working out very well for the team.
2001 - the Falcons traded with the San Diego Chargers to secure the first overall pick, which they used on
Michael Vick
.
Michael Vick was an insanely talented quarterback that saw his time in Atlanta shortened due to legal troubles.
The Chargers, on the other hand, ended up taking both Ladainian Tomlinson and Drew Brees in the draft, so it's safe to say that things worked out well for them.
1997 - the Rams traded with the Jets to secure the #1 overall pick.
The Rams would take Orlando Pace with this selection, and they would go on to win the Super Bowl a short while later.
Pace is in the Hall of Fame and was a 3x First-Team All-Pro, so this move was definitely worth it.
1995 - the Bengals traded with the Carolina Panthers to move up to #1.
The Bengals would take Ki-Jana Carter first overall, and this selection would be an unmitigated disaster, mainly due to Carter's wide array of injuries.
A disaster.
1990 - the Indianapolis Colts trade with the Atlanta Falcons to secure the first overall pick. They would end up taking Jeff George.
Jeff George would end up being a supremely underwhelming quarterback in the NFL, bouncing from team to team before his retirement.
-
When it comes to trading for the number one overall pick before the draft, history doesn't seem to be on the side of the Carolina Panthers.